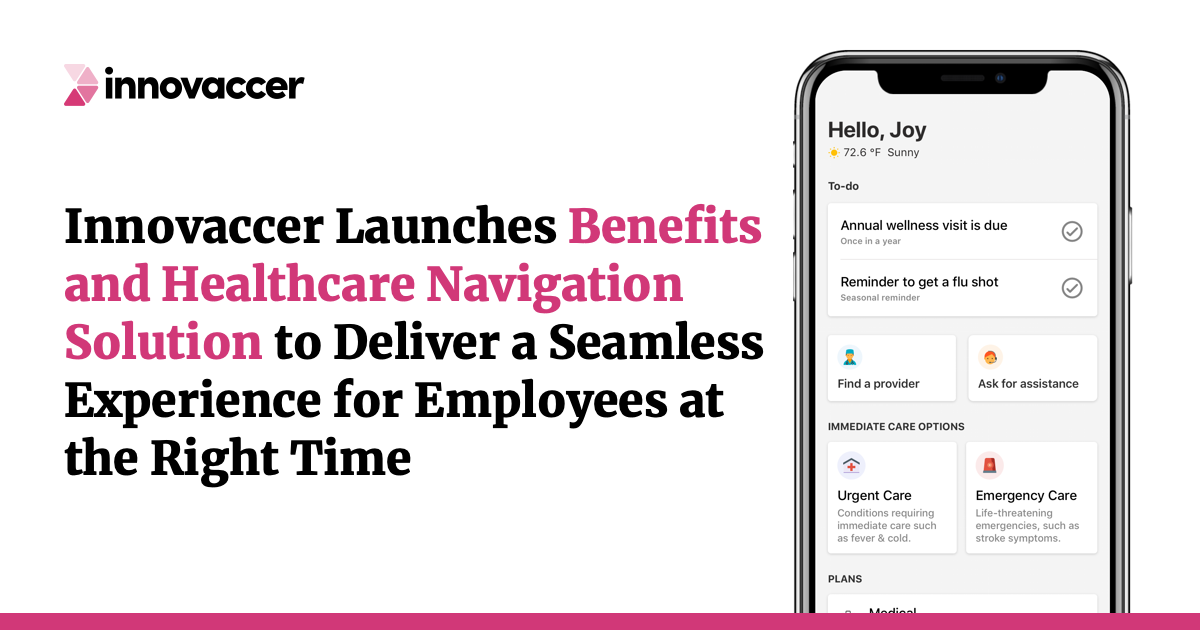 Innovaccer, Inc., a leading healthcare technology company, recently launched its care navigation and benefits engagement solution to provide a consumer-first, digital experience that guides employees to the best resources available to them during their health care journey.
Navigating the U.S. healthcare system is complex, often requiring too much time and effort for employees to find, access, and utilize available benefits and care options when they need them the most. Employers have long recognized that navigating healthcare and making informed decisions can be challenging for their employees.
As health and financial security become more amplified due to COVID-19, employers are looking for a data-driven, personalized health benefits experience that optimizes a mix of digital, self-service selections and offers the ability to connect with additional support.
Innovaccer's care navigation and benefits engagement solution removes barriers to care access, provides personalized guidance, alerts, and recommendations, and helps employees feel a sense of clarity, control, and peace of mind. There is also an option to add on care navigators and health coaches who can provide an omnichannel, consumer-centric service experience, using a dashboard with a 360-degree view of employees' health and benefits.
"Combining cutting-edge technology with human support provides a personalized experience that empowers and guides employees to the right care options, benefits, and programs at the right time," explains Abhinav Shashank, CEO at Innovaccer. "Employers can utilize our care navigation and benefits engagement solution to support their employees toward improved health while managing costs and providing a consumer-centric experience."