Today, Innovaccer Inc. launched the Innovation Accelerator program, an exciting new partner and marketplace ecosystem aimed at helping digital health innovators rapidly create breakthrough clinical, financial, and operational solutions through the power of the Innovaccer Health Cloud. The announcement took place at the 2021 HIMSS Global Health Conference & Exhibition, booth 2443.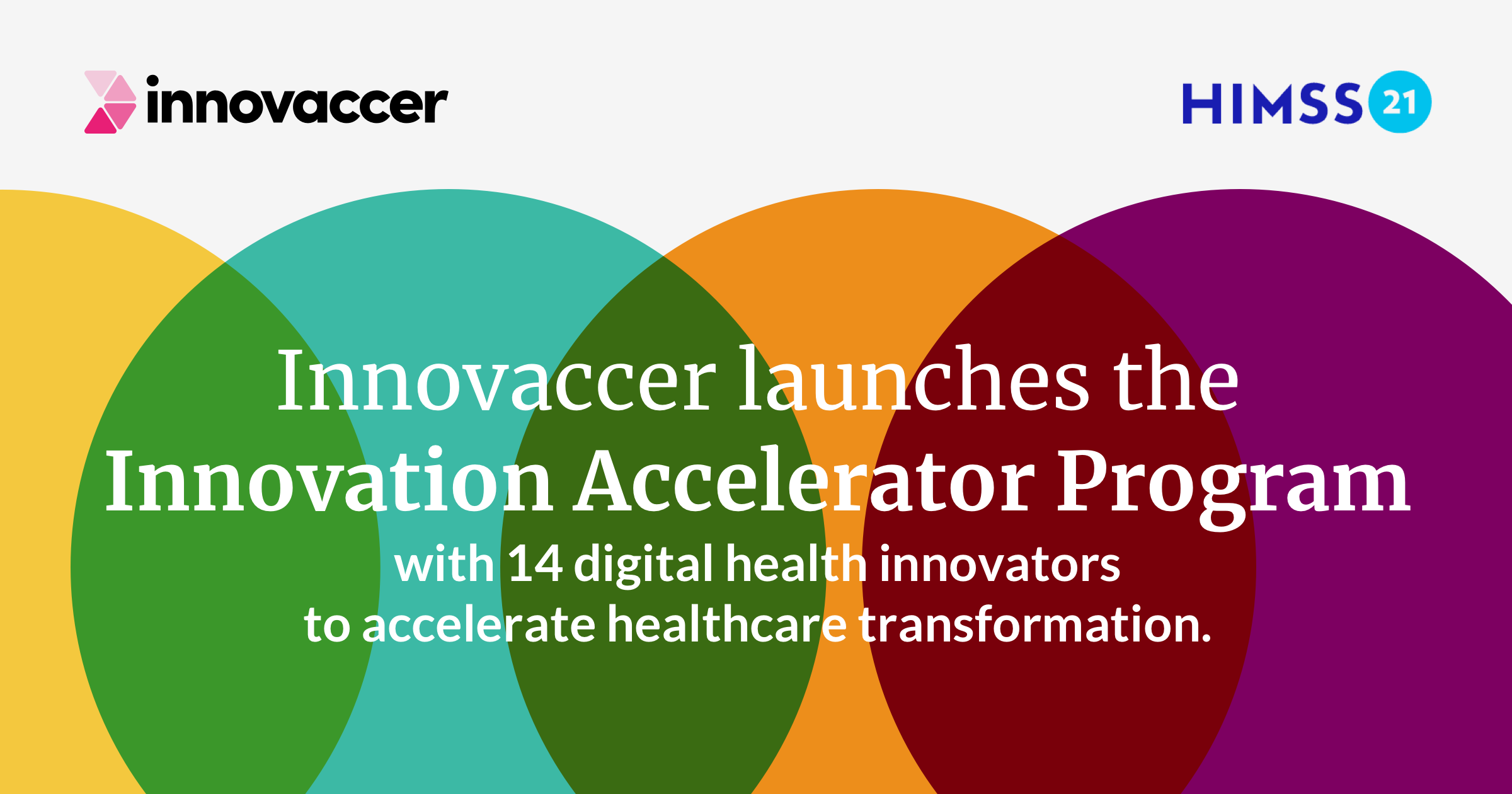 The Innovation Accelerator program empowers partners and digital health innovators to create truly interoperable solutions and enhancements that leverage the Innovaccer Health Cloud's unparalleled ability to swiftly collect, connect, and activate healthcare data from virtually any source—including more than 100 EHRs, HIEs, payers, pharmacies, labs, and partners.
"Our data model is unique because it's fundamentally organized around the whole patient," said Abhinav Shashank, CEO at Innovaccer. "The unified patient record—a single source of clinical and financial truth—is at the center of the Innovaccer Health Cloud's ecosystem. And that's what makes this program distinctive. We're bringing the industry together around a common vision and mission to help healthcare care as one."
Program partners gain access to the Innovaccer Health Cloud's managed infrastructure; developer-ready platform compliant with the latest FHIR standard; more than 150 plug-and-play integrations and 800 analytical models; reusable analytical, clinical, and business workflows; 200 turnkey connectors; 30 FHIR APIs; 3,000 healthcare data points; and 400 search parameters. Partners will also benefit from the Innovaccer Health Cloud's enterprise-grade security, including HITRUST certification; SOC 2 Type 2 certification, ENAC P&S accreditation, NIST CSF and HIPAA compliance; and PHI/PII security, including ACL and security-specific attribution for access control.
"Providing more solutions customers need faster is always of interest in our work," said Kristi Kempe, VP of Partnership at Aunt Bertha. "We're enthusiastic about the partnership opportunities the Innovation Accelerator program opens up for us and other leading digital health innovators, to speed up time to value by building and integrating intelligent, scalable, interoperable healthcare solutions that ultimately meet the needs of those seeking help."
In addition to rapidly building interoperable solutions, partners can spark new business opportunities through the Innovaccer Health Cloud's Marketplace. Their solutions will be promoted and available to Innovaccer's customer base of more than 37,000 health systems. Partners also get guidance from Innovaccer's healthcare IT experts—including David Nace, M.D., David Nash, M.D., Paul Grundy, M.D.—as well as commercial support to help them take advantage of the immense market opportunities made possible by the Innovaccer Health Cloud.
The result: Partners can quickly build or evolve new solutions that give payers, providers, and life sciences organizations a "single source of truth" that promotes whole-person care. This unified patient record, unique to and activated by the Innovaccer Health Cloud, consolidates all of a person's healthcare data from sources previously scattered across myriad healthcare IT systems.
Fourteen industry innovators have already partnered with us to take advantage of the Innovaccer Health Cloud:
"We are passionate about innovating and enhancing the processes that will lead to improved health and economic vitality in our communities," said Alisha Fehrenbacher, FACHE, CEO of Elevate Health and OnePierce Community Resiliency Fund. "Partnering with Innovaccer is part of our broader effort to engage with the relevant technology providers to advance our collaborative whole-person health model and bridge gaps in health equity. The Innovaccer Health Cloud plays a central role in how we support our provider network as it delivers coordinated care for the residents of Pierce County and the measurement of health outcomes in our region."