Perspectives on the major take-aways and action items from this year's big event
HIMSS '23 is in the rear-view mirror and, for weeks and months to come, many of us will be pondering or acting on what we learned at the world's largest annual gathering of healthcare leaders dedicated to transforming healthcare through IT. The 2023 conference, held in Chicago this year, brought together more than 35,000 attendees from over 100 countries to learn about the latest HIT trends and innovations.
It was also the first HIMSS Global Health Conference & Exhibition since 2020's canceled event not to be weighed down by the dark shadow of a national pandemic emergency, which officially ended in the US on April 10th, just seven days before the conference started.
Since then, we asked some of our customers and company experts to take a look back at HIMSS 2023, and share their perspectives on what they saw as the major take-aways and action items from this year's big event in the Windy City. Here's what they told us.
One of the most talked-about topics at HIMSS 2023 was the increasing importance of AI in healthcare. AI is being used to improve a wide range of healthcare processes, from diagnosis and treatment to patient care and administrative tasks.
Another key topic was the need for healthcare organizations to adopt a more patient-centered approach, putting the patient at the center of all decision-making and designing care and experiences that are tailored to their individual needs, throughout the care continuum.
And as always, interoperability, data, analytics, and clinical workflows were on the minds of healthcare leaders—long standing challenges that still have healthcare wrestling with siloed, fragmented patient data that hampers innovation and transformation efforts, especially around value-based care and consumer engagement models.
AI YAI YAI: AI Everywhere
No surprise: HIMSS23 was abuzz with all things AI, and particularly ChatGPT. Indeed, "in twenty years following the Internet space, we cannot recall a faster ramp [up] in a consumer internet app," said analysts at UBS. Only two months after its November launch, the AI chatbot had 100 million active monthly users.
ChatGPT-3 remains a free service, but its creator, OpenAI, projects the "Pro" version will earn $200 million this year and $1 billion in 2024. The buzz around ChatGPT clearly drove interest in AI overall to a level we haven't seen at HIMSS—or anywhere else—in years past. You can even see this effect in Google Trends data.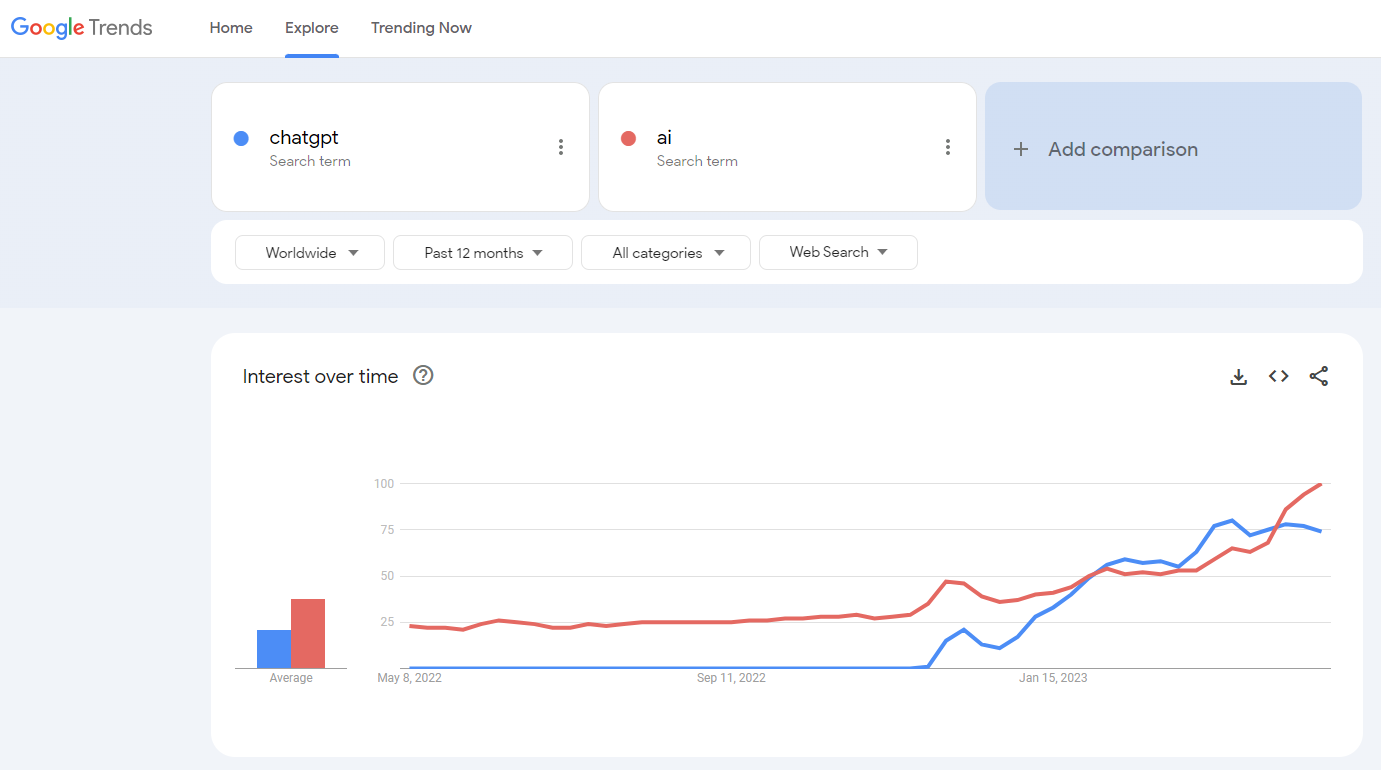 Exhibitors and attendees alike chatted up (no pun intended) this new, user-friendly variety of AI. But the hype was tempered with sober recognition of its limitations and risks, and the need for guardrails and guidance. And that goes double for its expanded use in healthcare, beyond some of the areas where AI has already successfully staked a claim (such as imaging). It seemed everyone was brainstorming applications.
For its part, Innovaccer introduced six new solutions at HIMSS23—including Sara, healthcare's first self-serve conversational AI assistant—and several others which put advanced, user-friendly AI to good use, and all of which support the unique and stringent requirements demanded by the use of AI or any information technology that deals with data in healthcare.
AI conversations ranged from the hypothetical to the technical, but one overarching concern that came up time and again in conversations with visitors to Innovaccer's booth was the training of AI systems on high-quality data. We mustn't assume that AI will be a panacea. In fact, given examples of how these new AI large-language models (LLMs) "hallucinate" (fabricate information), it's essential that safeguards be in place to ensure healthcare AI is trained on the highest quality healthcare data, and that the data is unbiased.
In fact, issues with data quality in healthcare go beyond AI. It matters for interoperability, analytics, pophealth, CRM, VBC—anywhere large amounts of data from legacy, mission-critical, and other healthcare IT systems are being integrated and acted upon. A data platform such as Innovaccer's is ideally suited to tackle this challenge, as we aggregate and unify (clean) data from multiple sources; "hydrate" the data to enable any application to use it; "activate" the data to make it useable in integrated workflows; and lastly, "harmonize" the data to ensure it's synchronized across all relevant systems and care settings.
Before any of our solutions' capabilities are brought to bear—including existing or new AI capabilities—we ensure the data they're working with is of the highest quality and, of course, processed in compliance with healthcare industry standards (such as FHIR) and regulatory requirements (HIPAA, etc.). ChatGPT-3? It can tell you about HIPAA and other regulations, but it can't comply with them.
Speaking of which, another AI conversational undercurrent was the role of standards. As with interoperability, AI has a need for standards to ensure the technology is ethical, responsible, and accountable. Certainly FHIR has helped move the industry forward for interoperability. But we must also consider the influence of standards and regulations on interoperability. Have they driven the industry closer, faster to our interoperability goals or have they squelched innovation? Can and should the industry self-police AI? There are strong arguments on both sides, and these questions were frequently raised in conversations.
The Old New Things
There's always an underlying theme at HIMSS, and while AI dominated the 2023 conversation, familiar topics like interoperability, data siloing, and data fragmentation remained loud and clear. Reducing clinicians' burdens, advancing health equity, better managing population health, succeeding with value-based care, and cybersecurity risks were prominent themes.
There was an expectation that payers and providers want and need to do more to address them all. The bottom line: The basics still matter. Value-based outcomes, and patient and provider experiences were increasingly important for all stakeholders.
In past years, many conversations at HIMSS centered around strategies and concepts. But this year we heard less philosophizing and more frank discussions about implementation and use of technologies to solve long-standing problems. There was a palpable push to make things "more real" from cost-conscious health systems and payers concerned about things such as the speed of rollouts, achieving faster ROI, driving provider and patient engagement rapidly, achieving measurable clinical and financial outcomes quickly, and so on.
A broad theme from this year's sessions was that consumers/patients want more from their healthcare—care at their own pace, their place of choosing, at their times and on their terms. Interest was strong in going beyond basic telehealth solutions providers hastily deployed during the pandemic's early days, out of necessity, to delivering truly patient-centric care, with seamless end-to-end real-world and virtual experiences that can compete with the growing number of retail healthcare entrants.
There was a recognition that services need to be available "on demand" and bridge brick-and-mortar with digital experiences, and that this will drive advances in digital engagement, virtual care, remote patient monitoring, and other technologies. The understanding that the industry needs a more evolved, unified approach to healthcare CRM (customer relationship management) as part of this was also a clear trend on the show floor.
For our part, among the six new solutions Innovaccer launched at HIMSS23 was Health 1:1, Innovaccer's enterprise CRM built exclusively for healthcare. It integrates consumer and clinical data into a longitudinal consumer/patient record that helps health systems find new patients, guide their care with clinical personalization, and boost lifetime loyalty through exceptional experiences worth talking about.
Patients want more, and so do clinicians. Doctors said they want as much help as possible from IT without foregoing revenue. They're unhappy and unsatisfied with many clinician-facing HIT; and want data, insights, and workflows integrated into their existing (and familiar) EHR clinical workflows. They don't want to be jumping around from app to app, portal to portal, silo to silo, while a patient is sitting before them.
There remains a tremendous opportunity for HIT to help physicians and clinicians to use EHR-integrated data-driven (and AI-enhanced) insights, workflows, and automation to improve the physician experience, address staffing issues and burnout, and accelerate success with value-based and alternative payment models.
The EHR Conundrum Rolls On
No HIMSS conference would be complete without lots of EHR banter, both good and bad, and 2023 did not disappoint. Although HIMSS pre-dates the modern EHRs in use today, the conference has always fulfilled a need to address challenges faced by CIOs and the folks they support—managing healthcare's glut of disparate data from scattered EHRs and HIT systems.
There was talk about how EHRs can influence clinician burnout. But EHRs themselves don't cause burnout. Poorly designed EHR interfaces and workflows that take autonomy away from clinicians and force them to focus on low-value work that's beneath their licensure does. EHRs remain essential, and without them we would face the Wild West of healthcare information. Nobody wanted to go back to the days before EHRs.
But this is where we circle back to the "standardization vs. innovation" discussion. The old standards for siloing patient records in a fee-for-service world are legacy at best and no longer apply at worst. Most if not all EHRs were built for a volume-based business model that is fading and will ultimately give way to value-based patient-centric care. But changing core transaction systems is never easy, quick, or cheap. And in the case of the EHR, as we saw at HIMSS23, it's not even necessary.
The good news is that there were a host of emerging wraparound technologies being introduced at HIMSS23 to complement EHRs and adapt them for new models and expectations. We're hearing less about plain vanilla interoperability and more about EHR integration—a trend, we're proud to say, that Innovaccer anticipated and has been setting the pace on for several years.
Until Next Year
The first post-pandemic HIMSS conference was a great success, with attendance of roughly 35,000 people approaching the event's pre-pandemic 2019 high of 43,000, according to Modern Healthcare. This year's conference had a nostalgic pre-COVID feel to it, with a positive atmosphere and enthusiastic attendees who were eager to discover the latest innovations Innovaccer had on display, as well as discuss the latest healthcare trends and advancements overall in the bustling exhibit hall and packed educational sessions.
If you weren't able to attend the show, or if you'd like to relive the upbeat vibe at HIMSS23—as well as take in some of the conversations and topics discussed in this article—take a look at our "InnoTV' @ HIMSS23" playlist. And if you'd like to learn more about the Innovaccer platform or the six new solutions we launched at HIMSS, just contact us and we'll connect!