The trend toward consumerism in healthcare has put patients more firmly in the driver's seat. They have more control than ever over how they receive care, and they are turning to ambulatory and home-based options in increasing numbers. Converting new patients into loyal patients requires a data-driven engagement approach that spans the entire patient journey. Does your organization have the infrastructure in place to implement that approach?
The Move to Consumer-Driven Healthcare
According to a PwC report, use of urgent care clinics grew by 18% in 2020, and retail clinic use shot up by 40%. Employers are encouraging workers to use these lower-cost clinics, as well as in-home and telehealth options, as a way to control healthcare spend. High-deductible health plans motivate patients to shop around for care, while payers continue to push value over volume. Add to that the ubiquity of mobile devices, and you have a competitive environment where patient satisfaction is paramount.
Whether patients choose a walk-in urgent care clinic or an appointment with their primary care doctor, they expect a similar level of personalization, accessibility, and innovation as they experience when they shop or bank online. An Accenture survey revealed that a "bad" digital experience would ruin the entire provider encounter. Almost 40% said a "good" digital experience would positively influence their experience.
While COVID-19 accelerated healthcare's ability to provide digital options, many healthcare organizations have otherwise not delivered convenient, personal experiences. Developing patient loyalty requires broader thinking about patients, their care teams, and where they receive care. It also requires a different approach to data—an integrated approach that brings together data from multiple organizations, providers, and devices.
Only a Fast Healthcare Interoperability Resources (FHIR)-enabled platform that integrates disparate healthcare data sources can provide the level of insight needed for a holistic, personalized experience. With the power of that data fully activated, healthcare organizations can build on those experiences to create lifelong patient loyalty.
From CRM to PRM: What's the Difference?
Healthcare customer relationship management (CRM) software helps organizations acquire and understand pre-clinical behavior (e.g., click paths), as well as patient demographics and psychographics. But standard CRM software captures only a small part of the picture.
"Traditional healthcare CRM stops where the patient experience begins," said Rachel Beachy Neely, senior director of growth strategy at Innovaccer, in a recent webinar. "Data connectivity bridges that gap."
Instead of segmenting patient retention efforts, healthcare organizations must move toward holistic patient relationship management (PRM). PRM incorporates CRM and everything that follows, from outreach and scheduling to follow-up visits and marketing surveys.
True PRM can't happen without integrated, high-quality data. However, multiple barriers have prevented healthcare organizations from developing a PRM approach. Those roadblocks include:
Fragmented data architecture
No universal patient identifier (HIPAA prevents use of common identifiers)
IT infrastructures built on systems that don't "talk" to each other
These technical challenges lead to siloed, often inconsistent data sources that create expensive inefficiencies. Of the trillions of dollars spent annually on healthcare, 20 to 25% is wasted. The industry could recover much of that waste with adequate use of data. Interoperability among various electronic health record (EHR) systems will help facilitate that use, but the initiative is slow-going and only solves part of the problem.
Integrate Data to Connect All Stops on the Patient Journey
An underlying architecture that integrates and activates valuable sources of data—EHR, claims, labs, pharmacy, and more—gives healthcare organizations the information they need to guide patients along their journey. It also enables an organization to streamline workflows among the care team members, as well as produce reports to measure the effectiveness of engagement and loyalty efforts.
With all data accessible through one platform, healthcare organizations can develop strategies to create patients for life. That strategy includes three components:
Find: Build

risk models

to determine which consumers and patients are at highest risk. Build digital engagement strategies to drive consumer activation while simultaneously implementing proactive, preventative care outreach strategies for the existing patient population.
Guide: Build long-term patient relationships. Start by developing guided care pathways to improve care coordination and health outcomes.
Keep: Provide value by expanding on steps one and two. Build and deploy personalized, interconnected healthcare engagement journeys that go beyond the immediate needs of treating illness to encourage long-term wellness.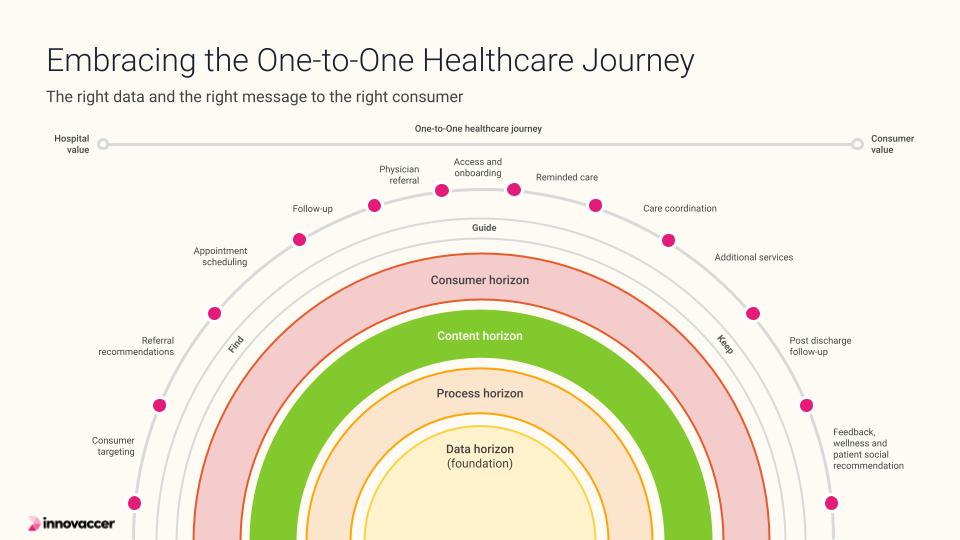 To find, guide, and keep patients for life, a holistic approach is required based on integrated data from multiple sources and systems. In a recent webinar, Lucas Sahm, CIO for Upstream, a primary healthcare solution provider, commented, "We look at this as a whole person approach. We're not just dealing with prescriptions. We need to understand not only what chronic conditions patients have, but also their social determinants and other factors. When we don't have the ability to bring all that information together, it creates blind spots that can reduce quality of care."
How The Innovaccer Health Cloud Brings It All Together
The Innovaccer® Health Cloud unlocks data investments housed on siloed systems. The Health Cloud products and services work together to accelerate strategies designed to find, guide, and retain patients. Innovaccer's Data Activation Platform (DAP) ingests, aggregates, and normalizes healthcare data across systems and settings. When used with intelligent, flexible applications, it provides analytics and insights to improve outcomes across all stages of care.
When paired with the Patient Relationship Management solution, healthcare organizations can use the Health Cloud to accomplish the following:
Personalize engagement strategies by creating micro segmented consumer and patient cohorts
Enhance patient communication by using their preferred method: phone, chat, text, or email
Improve outcomes by stratifying high-risk patients and enrolling them in 1:1 care protocols
Increase efficiency by automating tasks across stakeholders
Innovaccer internal and customer data show healthcare organizations that implemented PRM realized:
5% growth through patient acquisition
20% reduction in referral leakage
15% improvement in patient outcomes
30% higher patient satisfaction
From minute clinics to on-demand telehealth to brick-and-mortar hospitals, patients have more care choices than ever. To grow your patient base and build loyal, lifelong relationships, healthcare organizations must take full advantage of all the data at their disposal. With the industry's first and only full stack cloud platform for healthcare, you can develop a sound data strategy that encompasses the entire patient journey.
To find out how Innovaccer can help you enhance and accelerate your patient relationship management, request a demo.