Siloed data. Incompatible systems. Billing errors. Security vulnerabilities. Fragmented experiences. Hampered innovation. A national "flash" survey of healthcare leaders finds multiple data sources and lack of an enterprise data fabric at the root of long-standing challenges across the revenue cycle.

By Sean Hogan
General Manager, Provider Business
Innovaccer
Introduction
In advance of our first appearance at the HFMA Annual Conference (booth 514) being held this week in Minneapolis, our research team asked national healthcare leaders to share their top pain points in the revenue cycle today. On the surface, some of the results of this national "flash" survey won't be surprising to anyone who spends every day in the revenue cycle trenches. For example, 90% of respondents reported the pandemic moderately (57%) or completely (33%) impacted their ability to drive improvements and new technology in the revenue cycle.
Not a shocker. But it's the story behind the numbers that's compelling. The survey responses revealed a common factor behind the pain points: data fragmentation, driven by siloed IT systems and myriad vendors, fosters a disjointed and inefficient approach to revenue cycle operations. Over three-quarters of the health systems responding are using multiple data sources and vendors—in some cases, as many as six or more—to drive RCM operations. A mere 10% of respondents said they have a single-source approach to the revenue cycle.
For the rest of the respondents, their siloed IT systems, fragmented data, and multiple points of vendor contact are forcing a reliance on slow manual processes, unintegrated workflows, and piecemeal reporting. This traditional approach simply can't provide the holistic, real-time, actionable KPI insights finance leaders need to understand, optimize, and improve their revenue cycle performance in today's competitive and increasingly consumerized environment.
It doesn't have to be this way. New technology offers a path to addressing the cascade effect of data fragmentation. By unifying disparate systems and data on the Innovaccer Health Cloud, health systems can fundamentally transform RCM for the future of health. They can gain a single source of financial and operational truth that lets them integrate, analyze, and optimize the revenue cycle end-to-end, in near-real-time—without necessarily having to replace existing IT investments.
Establishing a unified enterprise healthcare data fabric can help improve operations at key points of the revenue cycle, including but not limited to scheduling, patient access, prior authorization, outreach, performance management, and denials prevention. Lastly, transforming RCM ushers in a contemporary technology foundation that can accelerate a health system's patient engagement strategy, enabling personalized, contextualized patient experiences; and reimbursement innovation at scale in an era of rapid consumerization, intense competition, and eroding margins.
If you're attending HFMA Annual 2021, please be sure to visit booth #514 and ask us about our Revenue Cycle Roadmap for health systems. To learn more about how our RCM Roadmap can help your organization unify the revenue cycle, please contact us.
---
"Breaking down the financial information silos is the path to providing a digitally-enabled, patient-centered, and financially transparent patient experience." - Brian Gray, Senior Director, Revenue Cycle Solutions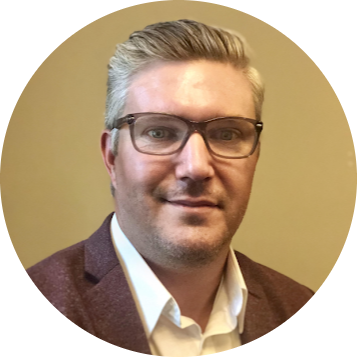 ---
METHODOLOGY
We engaged 49 CFOs, CIOs, CTOs, VPs of Revenue Cycle, and VPs of Finance to complete an online survey, covering organizations ranging in size from 51 to more than 2,000 employees. More than 50% of respondents represented organizations with 500 or more employees.
questionnaire probed how many RCM data sources the organizations use; the challenges caused by multiple data sources; areas of technology investment to improve processes and workflow, cut costs and overhead, and/or enhance outcomes; and denials prevention strategies.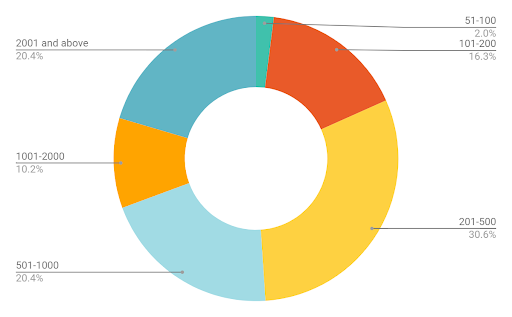 Fig. 1: Organization size ranged from 51 to over 2000 employees
---
DATA, DATA, EVERYWHERE
More than three-fourths (76%) of health systems report using three or more data sources and vendors for RCM—and that's probably just scratching the surface
We asked healthcare professionals how many data sources and vendors they were using for revenue cycle management. We found that more than half (53%) of the health systems responding are using four to six or more data sources, and nearly 76% are using three or more data sources to drive their RCM efforts. A mere 10% of respondents reported they have a unified, single-source approach to their RCM data.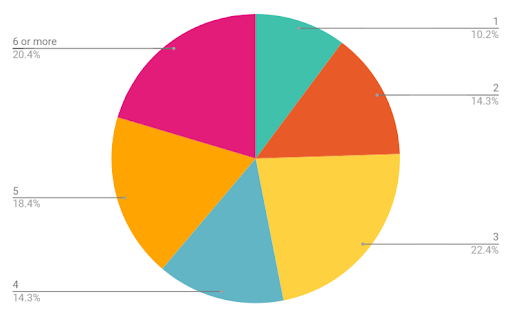 Fig. 2: Half of health systems responding have to wrangle more than four data sources for their revenue cycle operations
The revenue cycle includes all the administrative and clinical functions that contribute to capturing, managing, and collecting patient service revenue, including charge capture, claim submission, coding, patient collection, preregistration, registration, remittance processing, third-party follow-up, and utilization review.
Healthcare providers traditionally purchase and deploy specialized revenue cycle management systems to store and manage patients' billing records and other data. As the survey shows, most health systems use multiple vendors and services for RCM solutions, including for general management or department-specific services, such as practice management software, clearinghouse vendors, and various practices or facilities for benefits verification, bad debt collections, self-pay collections, provider credentialing, and so on.
But multiple RCM IT systems naturally output multiple types of data into multiple data silos and multiple reports—clinical, coding, filing, processing, EHR, scheduling, provider credentialing, and more. Each system and vendor has their own approach that they consider to be the best practice. As a result, these myriad silos and approaches must somehow be rationalized and integrated into a unified view to streamline billing and collection cycles, manage claims, track payment trends, ensure regulatory compliance, prevent and resolve denials efficiently, and so on.
Every RCM professional knows the time, effort, and pain of trying to do this. Unfortunately, without a contemporary, unified enterprise data fabric that can automatically aggregate, normalize, standardize, and visualize data from disparate sources, health systems are stuck with semi- or fully-manual ad-hoc processes to pull, clean up, merge or re-key, and publish the data. Moreover, they lack the real-time actionable insights and dashboards essential to transforming the front-end, mid-cycle, and back-end of the revenue cycle to achieve revenue cycle excellence across the board.
---
"One health system we're partnering with has 15 vendors, four practice management systems, and a clearing house. So they have 19 different data sources that they have to pull from and make sense of. Unfortunately, as the survey shows, this is the rule, not the exception." - Brian Gray, Senior Director, Revenue Cycle Solutions
---
SILOED DATA: THE ROOT OF RCM's CHALLENGES
Nearly all respondents tied suboptimal revenue cycle operations and performance back to fragmented data
We asked health system leaders what challenges multiple revenue cycle data sources cause, and to rank those challenges from highest to lowest impact.
The #1 challenge they said their RCM team wrestles with today: "Siloed revenue cycle data sets," with nearly 100% of respondents pegging it as their top issue. That was closely followed by "Weak, fragmented analytics," which makes perfect sense. Without a unified data platform, such as the Innovaccer Health Cloud, it's almost (if not certainly) impossible to achieve unified analytics and insights—not to mention being able to access such insights on demand, in near-real-time.
This is the root of the cascade effect that ripples throughout virtually all other areas of the revenue cycle. Siloed data sets are the trigger for weak/fragmented analytics; manual, paper-based, and fax-reliant workflows; data quality issues due to manual data collection, entry, and reentry; a lack of end-to-end claim processing visibility; and, in the end, constant rework and reentry of data.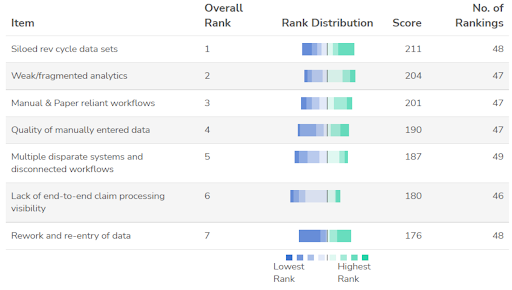 Fig. 3: The top 7 RCM challenges ranked, connected to having multiple revenue cycle data sources
These challenges are only growing as healthcare organizations are flooded with an ever-expanding (dare we say "exploding?") universe of health data. By 2025, healthcare's compound annual growth rate for data is projected to reach 36%, which is 6%-11% faster growth than all other industries studied, including manufacturing, financial services, and media and entertainment.
Unlike other industries, however, healthcare leaders have not, in large part, embraced the data integration, management, and "activation" capabilities needed to get this data under control so they can capitalize on the immense financial, clinical, and operational opportunities offered by an increasingly data-rich healthcare ecosystem.
But what happens when they do? One large health system refined its data strategy to streamline applications, integrate workflows, and add intelligence layers to improve care and financial outcomes. The health system used the Innovaccer Health Cloud to unify its IT siloes by creating an enterprise data fabric. It condensed more than 10,000 ad-hoc reports into 800 user-friendly enterprise metrics, available on-demand for actionable intelligence. As a result, the network saved nearly $6 million on annual IT operational expenses—a 70% reduction in it's IT infrastructure costs.
Whether for a large or a small provider organization, enabling system-wide analytics and seamless workflows by unifying healthcare data gives healthcare executives the ability to see and understand the revenue cycle holistically. This enables them to identify bottlenecks and trouble spots, get more accurate projections, and intervene in a timely manner to help optimize processes, reduce administrative overhead, speed claim processing, prevent denials, and accelerate revenue velocity.
---
"Siloed data, and weak and fragmented analytics, are a cause and effect. If you don't have good data, you don't have good reporting, you don't have good analytics, you don't have good insights, you can't make informed decisions in near-real-time. The lack of end-to-end claims processing visibility? Attribute it to a cause and effect from siloed data and weak, fragmented analytics. Disparate systems and disconnected workflows? Again, siloed workflows and datasets are at the root. It's all connected, and it starts with data." - Brian Gray, Senior Director, Revenue Cycle Solutions
---
COVID-19 IMPOSES A "TRANSFORMATION TAX" ON HEALTH SYSTEMS
Fully a third of health systems made no technology upgrades or progress during the pandemic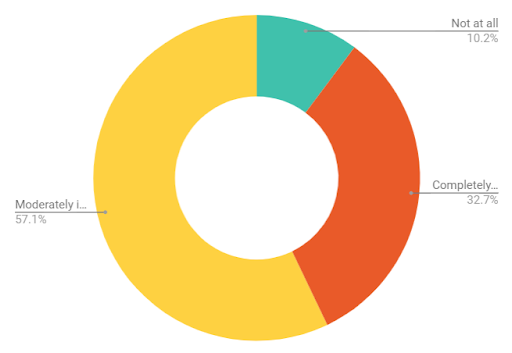 Fig. 4: The impact of COVID-19 on healthcare technology innovation
No survey of healthcare executives would be complete without asking about the impact of the pandemic on their organization. It's no secret the pandemic hit the industry hard. Hospitals were projected to lose $323 billion in 2020 and an additional $122 billion in 2021. RevCycleIntelligence reported that 75% of hospital and health systems experienced "adverse revenue cycle impacts" during the pandemic. And 37% of HFMA-member finance executives reported increased workloads due to confusion over codes and requirements, according to Becker's.
But what about the pandemic's impact on revenue cycle transformation and innovation? That's the unanswered question. And so we asked respondents "How much did COVID-19 impact your ability to drive process improvements and implement new technology within your cycle?"
Nearly all respondents (90%) said the pandemic impacted their ability to drive improvements and implement new revenue cycle management processes and technologies. Fully a third (33%) said that pandemic-related issues completely prevented their planned process improvement and technology rollouts, while more than half (57%) reported a moderate impact on innovation and transformation efforts. Just 10% said their innovation imperatives were not affected.
As a result of the pandemic's heavy impact on innovation, healthcare organizations have essentially racked up a truckload of "transformation debt." It could be argued that the 90% of respondents whose process and technology innovations were hampered are now one to two years behind in their revenue cycle transformation efforts. That's a significant competitive and transformational disadvantage relative to the 10% who claim to have sustained innovation.
Health systems now have two choices. One, resuscitate process improvements with traditional approaches to addressing revenue cycle issues—more outsourcing, more vendors, more solutions, more data silos, more manual data mitigation. Or, instead, use the crisis to pivot to a fresher, faster approach to innovation; a new way of working that promises to transform the revenue cycle end to end, top to bottom, and end the cascade effect caused by fragmented data, fragmented workflows, and fragmented analytics.
COVID-19's pressure on hospital operating margins remains profound, despite the availability of vaccines and other treatments. By the end of 2021, hospital margins could be anywhere from 10% to 80% below pre-pandemic levels. Half of hospitals could have negative margins, well in excess of pre-pandemic levels. Health systems can't afford to keep innovation on hold. For providers to survive and thrive in the new normal, they must address siloed data's role in hindering change across the revenue cycle.
There's never been a better time for healthcare leaders to reinvent their core revenue cycle infrastructure to position it for the future and support long-term fiscal health. By establishing a contemporary data platform on the Innovaccer Health Cloud, providers can rapidly and cost-effectively tear down the data silos, unify disparate systems and data, end the cascade effect that makes revenue cycle operations so inefficient and often ineffective, and position the greater organization for the future of digital health.
---
"People aren't doing the things they want and need to do to improve their business because of COVID and the financial impact of the pandemic. It's a significant headwind for finance and IT leaders. But here's the thing: When 90% of the market has stopped or slowed innovation, that's actually a rare business opening to leap ahead, competitively. During this period, when projects across the board are reduced or scrapped, it might be the ideal time to focus on your data and the foundations of your revenue cycle—because you don't have other projects on your docket. Let's focus on the data. Let's focus on the foundational elements of how to increase your fiscal health and your performance and your analytics." - Brian Gray, Senior Director, Revenue Cycle Solutions
---
HEALTHCARE LEADERS SHOW US WHERE IT HURTS
Prior auth, scheduling, and patient outreach are the revenue cycle's hottest pain points

Fig. 5: The top RCM pain points all have manual processes and fragmented data in common
We asked healthcare leaders in what areas of the revenue cycle they would like to apply technology to improve processes, workflows, cut costs, reduce overhead, or enhance outcomes?
The results are telling. The responses show the top pain points share a common thread: ongoing reliance on largely manual processes across multiple, disconnected teams and siloed data sets. Almost half (47%) of respondents pointed to prior authorization, scheduling, and patient outreach as their top three pain points, followed closely by denials prevention (39%), patient access (37%), performance management (35%), workflow automation and manual process reduction (31%), and pre-bill claim scrubbing (30%).
In fact, literally all of the pain points with responses over 30% are largely if not entirely manual tasks in most health systems. Consider prior authorization (PA). While slow progress toward automation has been made over the years, most prior authorizations are still entirely manual. Fully electronic transactions account for only 21% of all prior auths, according to the 2020 Council for Affordable Quality Healthcare (CAQH) Index.
While workflow automation and manual process reduction are among the top targets for health system leaders, healthcare leaders often take a fragmentary approach to automate or otherwise reduce the pain of any given process. Their teams will turn to a point solution that does, in fact, solve their immediate and very specific issue. But in the process, that solution spawns another disconnected data set that, down the road, will trigger more manual data management and overhead. One problem gets fixed, but the larger problem of fragmented RCM data gets worse.
Here are two examples of the larger problem. First up: Scheduling and registration. They're combined in a lot of ways. But a lot of scheduling is happening in the practice management system, early in the process. There's not a lot of checks and balances. Or scheduling is being done through a different team. This separates the data from the process. Prior authorization? Same deal. Half of the data sits in the EHR, half of it sits in the practice management system. When the data between those systems is fragmented, it forces dependency on a manual, slow, error-prone workflow where the RCM team has to engage each payer manually. They have to access the EHR manually, they have to connect all the dots manually, because the data lives in multiple places.
It's no wonder prior authorization is among the most loathed and costly processes in healthcare. The HFMA reported prior authorizations cost providers $528 million in administrative overhead in 2019. One study of academic radiation oncology practices found some PAs took as much as 95 minutes to process, and had an average annual departmental cost in excess of $491,000.
As you can see, siloed RCM data is at the heart of these pain points. It necessitates the use of manual, resource-intensive, and reactive processes that are common throughout the revenue cycle, despite executive desire for more automation. Such legacy processes delay revenue realization, don't generate maximum yield on claims, and deliver a fractured and confusing experience to patients.
There's no reason why, however, with today's health cloud and data activation technology, that "sneaker net" should remain a dominant factor in RCM. Consider this example. A large multi-state health system had more than 225 operational, revenue cycle specific reports. They had one report with 40% of their data. They had to build a second report from another system to reveal another 40% of their data. Then they had to manage both reports to tell 100% of the story, but based on 80% of their RCM data.
They're now using the Innovaccer Health Cloud to unify all of their data from across their RCM ecosystem, which will create a longitudinal financial patient record. They will then be able to generate one report with truly 100% of the data they need to manage the rev cycle. This will enable them to cut their reporting needs and reporting consumption tasks by two thirds, in addition to giving them real-time analytics for better, faster decision making.
Or this example. A leading behavioral health organization was working with several hospitals to provide mental health services in its facilities. But its billing workflow was complex, labor-intensive, and relied heavily on data from myriad sources (mostly coming from the other hospital systems it served). The behavioral health system turned to the Innovaccer Health Cloud to unify its data feeds, increase data accuracy, decrease workflow execution time, and improve employee satisfaction by reducing data entry and rework—and reduced associated IT costs to boot.
The result: The system saved $250,000 by using Innovaccer's RPA (robotic process automation) solutions to catch previously missed entries, enable a billing process that was four times faster than the previous manual method and could achieve 100% operational reliability.
---
"There are all sorts of boutique technologies that solve individual revcycle problems, but they also create more data silos. Many organizations are trapped in a cycle of solving one problem here and another there, rather than taking aim at the root cause. At the end of the day, we should bring all of these data sets the organization has issues with—prior auth, performance management, denial prevention, workflow automation, scheduling, patient outreach, and so on—into a single platform that can provide a unified patient record, automated intelligent workflows, and holistic insights that support better financial outcomes." - Brian Gray, Senior Director, Revenue Cycle Solutions
---
DON'T BE DENIED
Nearly two-thirds (63%) of healthcare leaders say manual workflows need to go


Fig. 6: What revenue cycle leaders say they need to reduce denials
Nearly two-thirds (63%) of healthcare leaders say manual workflows need to go For our final question in this flash survey, we asked revenue cycle leaders, "Knowing that 90% of denials are avoidable, what more do you believe your organization should do to reduce denials?"
Nearly two-thirds (63%) of respondents said reducing manual workflows is their top target for reducing denials. How do they think they'll accomplish that? The answer is in the two metrics that follow close behind: more than half (55%) of respondents believe deploying automated rules-based claims reviews, as well as applying end-to-end claims tracking (49%), would significantly reduce the number of denied claims.
As with the top RCM pain points overall, when it comes to denials, manual workflows are once again center stage. Rules-based claims reviews can replace what is largely manual work today. Most providers accept 15-20 different insurance plans, and every payer has different rules for what they'll reimburse. A rules engine can be customized to ensure the health system's complex payer requirements, specialties, value-based contracts, and so on are met with every claim.
Rules-based claim reviews reduce the risk of human error, and also scale up claim processing. In addition to preventing claims with undetected or uncorrected issues from getting out the door, some rules-based claim review systems can even autocorrect certain billing and coding errors, freeing staff to focus on the claims that truly require manual intervention.
For end-to-end claim tracking, there's really only one answer: health systems need to build a longitudinal patient record in order to see a claim, no matter where it is in the RCM ecosystem. That's accomplished by unifying revenue cycle data through an enterprise data strategy—a move less than half (38%) of healthcare executives said was a denials-prevention priority, and placing fifth on the list of nine options. Yet as the survey results and this report have repeatedly pointed out, that's the crux of the problem.
It's a revenue cycle conundrum. On one hand, revenue cycle leaders recognize the need to track claims end to end; on the other hand, they continue to prioritize the effects rather than the root cause of their RCM challenges. As we head into 2022, it's crucial that revenue cycle leaders invert that thinking, and recognize that many if not all of their RCM pain points are related to siloed data. That's what's preventing them from unleashing seamless front-end, mid-cycle, and back-end RCM operations.
The roadmap to a painless revenue cycle is clear and available today. Health systems can unify their disparate systems and data on the Innovaccer Health Cloud, and fundamentally transform RCM, and even the health system overall, for the future of health.
If you're attending HFMA Annual 2021, please be sure to visit booth #514 and ask us about our Revenue Cycle Roadmap for health systems. To learn more about how our RCM Roadmap can help your organization unify the revenue cycle, please contact us.
---
"It's an interesting parallel. Respondents see unifying their data as one of many problems to solve for, when in fact, it's the #1 problem to solve for. It's the lynchpin to revenue cycle success across the board. We know all of these problems can be solved by unifying revenue cycle data." - Brian Gray, Senior Director, Revenue Cycle Solutions
---