John visits his physician multiple times for a persistent headache issue, and his insurance claim summary shows that the provider was reimbursed for every service provided during each of the visits. On the contrary, Peter, John's friend, visits a different provider and his claims show that the provider was reimbursed on a one-time lump sum basis, based on how well the provider managed his condition and on quality metrics.
In John's scenario, the provider delivered volume (of services) with little or no strings attached to quality. But Peter's provider aimed to deliver value with the best care possible to meet quality metrics and this helped Peter get improved and proper care. The introduction of the Affordable Care Act in 2010, has made provider organizations focus and shift from volume to value.
This blog covers what value-based care is, why the shift from volume to value is necessary, how it is different from the fee-for-service model, what are the different existing value-based purchasing programs, and how Innovaccer's Healthcare Analytics Platform and population health management solutions together can help healthcare organizations achieve success in their value-based care journeys, no matter if they have just started or are exploring new solutions to accelerate value-based healthcare.
What is Value-Based Care (VBC)?
Value-based care is a healthcare delivery model with a standardized payment structure in which different providers treating a patient for the same or related conditions are paid an overall sum depending on how well they were able to manage a condition rather than being paid for each treatment, test, or procedure. In doing so, providers are rewarded for coordinating care, preventing complications and errors, and reducing unnecessary or duplicated tests and treatments.
Why the US Healthcare Needed to Shift from Volume to Value?
A 2021 Commonwealth Fund report compared the performance of health systems across 11 high-income countries and found that the US spends the most on healthcare but ranks at the bottom for performance and access, equity, and healthcare outcomes. More alarming is that the disease burden in the US is the highest among developed countries, i.e., six in ten Americans have at least one chronic condition—high blood pressure, diabetes, mental illness—and four in ten are managing more than one such condition. A staggering 90 percent of the US national healthcare expenditures are spent on people with chronic and mental health conditions.
Healthcare in the US had to shift from volume to value to reduce billions of dollars in risk. According to Morning Consult's "The State and Science of Value-Based Care" report, providers believe 96% of payment is now value-based in some capacity. Only 4% of providers reported using pure FFS with no links to quality and value, and they said that will dip to 1% by 2025. The industry is undoubtedly witnessing the shift, even if it's slow.
How is Value-Based Care Different from the Fee-for-Service (FFS) Model?
In an FFS payment model, the provider or facility gets reimbursed for each service. Providers are incentivized to increase the volume and profitability of care provided rather than the quality. This model can also drive up costs through fragmentation and unnecessary non-value-added services. Under FFS models, cost variations exist and the healthcare industry spends more to treat patients even though patient outcomes are not necessarily improved. This model also challenges provider workflows because physicians must see more patients, and in many cases, each claim is processed in a fragmented network.
Value-based reimbursement programs and care models hinge on advancing the quality of care while increasing patient access and accounting at the point of care. Unlike the traditional model, value-based care is driven by data because providers must report to payers on specific metrics and demonstrate improvement. Value-based reimbursements are calculated using numerous quality measures and determining the overall health of populations. Providers may have to track and report on hospital readmissions, population health, patient engagement, and more. Providers are incentivized to use evidence-based medicine, engage patients, upgrade health IT, and use data analytics to get paid for their services.
A few ways value-based payments differ from FFS: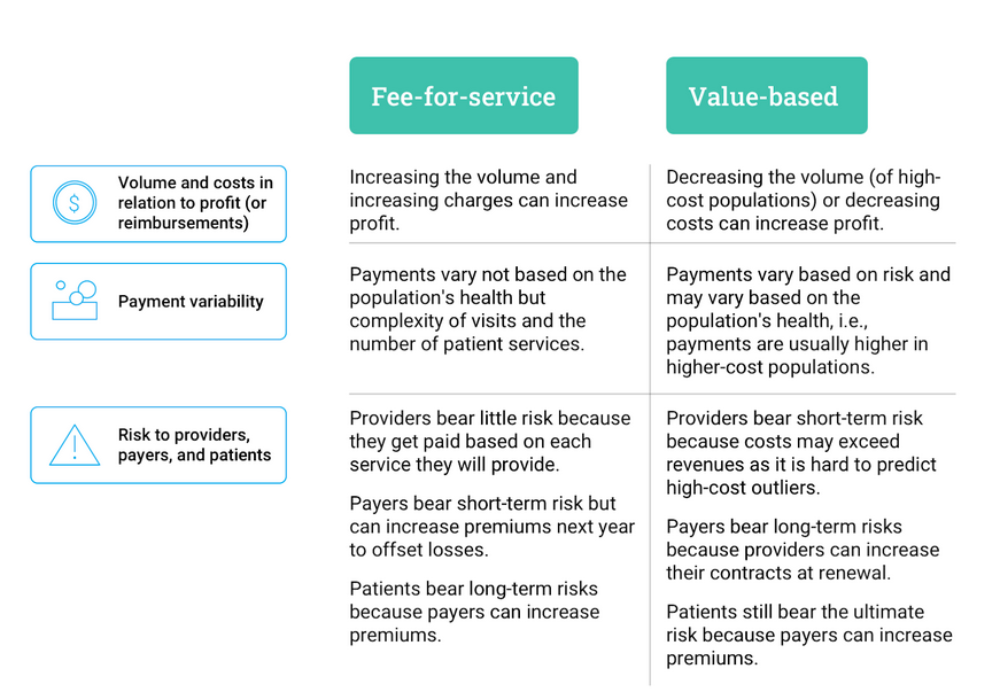 What are the Different Value-Based Payment Models?
All value-based reimbursement arrangements emphasize quality over the quantity of services provided. The terms 'value-based care' or 'value-based payment' include a variety of reimbursement arrangements, including APMs (Alternative Payment Models), advanced APMs, bundled payments for episodes of care, pay-for-performance, shared savings programs, and global capitated payments.
| | |
| --- | --- |
| Pay for Performance | Healthcare providers are only compensated if they meet certain metrics for quality and efficiency. |
| APMs and Advanced APMs | APMs can apply to a specific clinical condition, a care episode, or a population. Advanced APMs are a subset of APMs and allow clinics to earn more for taking on some risks related to their patient's outcomes. |
| Bundled Payment | Under this payment structure, different healthcare providers who are treating a patient for the same or related conditions are paid an overall sum for taking care of a condition rather than being paid for each treatment, test, or procedure. In doing so, providers are rewarded for coordinating care, preventing complications and errors, and reducing unnecessary or duplicative tests and treatments. |
| Shared Savings | The shared savings program facilitates coordination and cooperation among providers to improve the quality of care for Medicare Fee-for-Service (FFS) beneficiaries and reduce unnecessary costs. Eligible providers, hospitals, and suppliers can participate in the shared savings program by creating or participating in an Accountable Care Organization (ACO). |
| Global Capitation | The global capitation system operates on the basis of a network of hospitals and physicians receiving fixed payments on a per-member basis for enrolled health plan members. Generally, providers sign a single contract with a health plan to cover care for members and then determine a method of dividing up the capitated payment among the provider group. |
How Can Value-Based Care Models Help Providers Save Money?
The proactive, data-driven approach to value-based care enables providers, payers, and patients to work together to keep patients healthy and reduce costs over time. Early treatment of risk factors is better for patients and less expensive than late-stage interventions and hospitalizations. Similar to well-controlled chronic conditions, uncontrolled conditions that often progress and require hospitalization incur fewer costs.
Data sharing and enhanced care coordination also streamline administrative processes and reduce waste. It is necessary, however, to have the right technology stack to collect and analyze data to derive insights for all stakeholders so that providers can provide services to patients, better manage their conditions, and report to payers on appropriate quality measures for reimbursement.
The Innovaccer platform empowers health systems to build a robust data foundation that aligns perfectly with their business objectives. It leverages a unified data model that ingests data from multiple sources, such as EHRs, claims, labs, and pharmacies and standardizes data into a single unified patient record.
The cloud-native, flexible, and scalable platform allows health systems of any size to bring all the critical data to the point of care and derive insights to help care teams across sites make the right intervention at the right time. The industry-leading data platform with advanced analytics can also help providers to accelerate their value-based care journey with:
360-degree patient profiles to better manage care with complete information ready to be accessed anywhere at any time
Data-driven insights to enable evidence-based decision-making leading to personalized care plans
Predictive risk adjustment analytics for early detection and to proactively address risk factors
AI-assisted medical coding assistant to address and close coding gaps at the point of care
End-to-end referral management to effectively close referral loops and reduce network leakage and revenue
Centralized care management to improve care coordination, enhance clinical efficiency, and reduce readmissions
Customized dashboards to effectively utilize available resources, such as walk-in clinics and urgent care sites rather than emergency rooms, when appropriate
And many more.
To see the Innovaccer data platform in action, you can book a personalized demo with our experts, who will be happy to understand your organization's challenges and answer your queries.