Physician burnout is at an all-time high. A Mayo Clinic study found that the prevalence of burnout among US physicians was 62.8% in 2021, compared with 38.2% in 2020. For physicians, the stress stems from long hours, demanding workloads, and increasing administrative burdens. The affected physicians are more likely to make medical errors, miss diagnoses, and hamper their ability to provide quality care. They are also likely to experience depression, substance abuse, and thoughts of self-harm. This, in turn, contributes to a shortage of doctors leading to an increase in the total cost of healthcare.
To address this problem, healthcare organizations and policymakers must prioritize the wellbeing of physicians and implement solutions to reduce stress and improve work-life balance. Additionally, healthcare organizations can implement properly designed wellbeing programs for their providers, to promote resilience and prevent burnout. By doing so, we can ensure that physicians are able to provide the highest quality care to their patients and maintain their mental and physical health.
Healthcare Needs Physician-Focused, Clinically-Contexualized Technology
In healthcare, EHR software platforms have been synonymous with technology. They have advanced the digitization of healthcare information in the industry and brought many benefits. Ironically though, EHRs have also compounded multiple issues within healthcare. Healthcare applications create a bad user experience causing hassles in providing a seamless care journey, lack of interoperability arising from multiple EHR software, poor integration of various physician applications in the market, and more.
Most physician productivity solutions, mobile or browser-based, fail since they don't work seamlessly with their EMR which is often considered as the single source of truth for patient data. When physicians need to spend time with patients and their EMRs during their visits, having an application on a separate window is counter-productive because they will have to spend additional time toggling between screens adding more complexities and error-prone workflows.
This technology needs to change how we care for patients. It needs to save physicians' time and more importantly, show the bigger picture at the point of care. Even though technology has aggravated physician burnout issues in healthcare, the reality is that technology itself is the answer to it—one that is developed with the physicians and the patient at the center. The answer lies in not additional solutions, but in simple yet powerful technology that can be powered by a unified healthcare data platform.
As a leading innovative healthcare company, Innovaccer is doing just that. The answer is InNote, powered by the #1 KLAS-rated healthcare data and analytics platform. It brings real-time data on quality and coding gaps right onto the physician's EHR screens, enabling data-driven decision-making, and lets them measure their performance on clinical, contractual, and financial benchmarks against peers across the network.
An EHR-Agnostic Smart Assistant that Cuts the Clutter
InNote, the physician's digital assistant simplifies their user experience. It provides a smart widget on the physician's desktop (working in sync with the EMR) that pops up on the physician's screen and provides a notification, only when it requires the physician's attention. This solves two problems:
It provides contextual patient information to the physician at their fingertips by working in sync with EHR data, which earlier was not possible due to data "black boxes" that were not defined for integration.
It eliminates unnecessary clutter and extra clicks physicians previously had to perform.
InNote | First Point-of-Care Physician Engagement Tool | Digital Assistant | Healthcare Technology
InNote draws all the necessary data powered by Innovaccer's Data Activation Platform (DAP). This data is invoked instantaneously and automatically when a physician pulls up a patient on their EHR system. Unlike the basic EHR data that physicians are overwhelmed with, the Innovaccer instead provides cleansed, refined, and standardized patient information powered by a unified data model.
Let's explore in detail how InNote addresses physician burnout:
Relevant information at the right time: InNote pinpoints and surfaces relevant patient information without any need of spending countless hours searching for precise details manually. Providers can leverage real-time information and historical data at the same time to strategize their care delivery across the care continuum in a much more efficient manner. This enables seamless collaboration between staff (nurses), care managers, fellow providers, and specialists.
Patient-profile dashboards for attributed patients: InNote surfaces detailed and updated clinical summaries of each patient's health and improvement levels over the course of time, right on the user's EHR screen. It also helps in keeping up with their vitals, upcoming tests, risk scores, and many other useful details in a single place without having to worry about feeding each detail manually. In addition, with the community benefit organizations (CBO) referral tool in InNote, providers can identify any SDoH factors as part of a patient's office visit and refer them to relevant community resources.
Highly adaptable physician-friendly technology to facilitate zero paperwork: InNote synchronizes with a physician's calendar and informs them of upcoming visits and gaps that need to be addressed. With intelligent insights to curb manual data operations, it also helps in reducing alert fatigue to a great extent.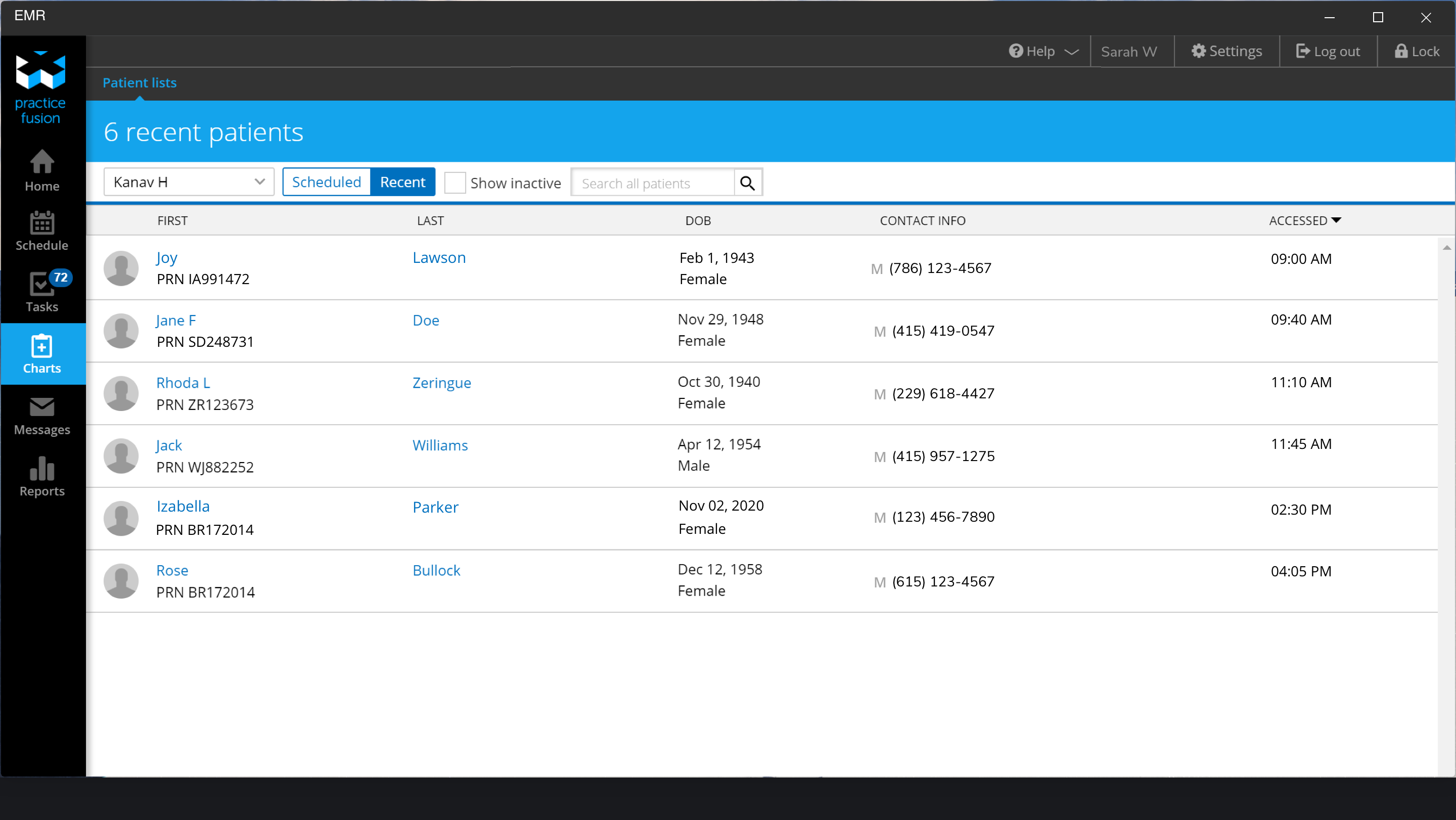 Close gaps at the point of care: With data-driven support for planning out a daily agenda, InNote acts as a holistic platform for physicians to plan their day and closely monitor each activity. The smart assistant prevents physician burnout by giving real-time insights into potential care and coding gaps, thus eliminating the chances of gaps in care. InNote seamlessly integrates with existing workflows to bring contextual insights, with minimal manual intervention, for completed and pending tasks right at the point of care.
Zero-click activation for the user: InNote's single-sign-on (SSO) login feature helps physicians easily log in to the system with their regular user credentials. This reduces any additional steps and clicks that would have been required to set up each physician's access. In addition to the flexibility, data security is an integral part of InNote and ensures that patients' sensitive information is never tampered with.
Evaluate personal and network performance: With the physician scorecards feature of InNote, a physician can evaluate their performance based on different care metrics. Further, physicians can also compare and contrast their performance on quality, cost, and expenditure with respective network trends. Additionally, they can also evaluate a number of dropped conditions, care gaps closed, and available opportunities to enable a more exhaustive care experience and reduce overall costs.
Seamless referral management: InNote facilitates an effortless referral management process with comprehensive dashboards listing specialists and other providers of the network with their details along with referral options available outside the network. The referrer physician may decide on a specialist based on disease type, location, and preferred language, among others to make the best possible referral.
Faster time-to-value with extensible solutions: InNote is set up in a scalable method so that different use cases for providers can be solved with extensible solutions. This will drive value and innovation for physicians on the go from the first day of implementation with reduced re-coding or additional overhead.
Customer Success Stories: Empowering Physicians to Focus on What Matters the Most - Patients
Innovaccer's solutions, including InNote, are powered by the Innovaccer platform and have been deployed across more than 1,600 hospitals and clinics in the US, enabling care delivery transformation for more than 96,000 clinicians, and helping payers and providers improve collaboration through exceptional physician engagement. Let's deep dive into some of the success stories:
A major innovative healthcare organization operating in multiple states wanted to improve its efficiency and provide high-quality care and accurate coding for diagnoses.
InNote, powered by the Innovaccer platform, allowed the healthcare organization to:
Unify patient data across multiple systems and embed workflows that were simplified across teams
Improve coding accuracy for previously documented HCC codes
Improve care by making quality gaps more visible at the point of care
Realize value across both quality and coding measures
By using InNote, the health system achieved:
10% improvement in coding gap closure rates and 37% improvement quality gap closure rate
$5 million payment for performance on seven bonus measures by improving quality gaps closure rate
$3.9 million annualized savings if InNote is leveraged for the remaining patients to close coding gaps
One of the largest clinically integrated networks in the country wanted to enable their physicians to close care gaps at the point of care and improve their chronic disease coding accuracy.
InNote, powered by the Innovaccer platform, allowed the health system to:
Unify their patient data across multiple systems into a longitudinal patient
Consolidate primary care provider and care coordination staff applications using one unified patient record. The result was a common view and consistent data, which became the single source of truth
Create a 360-degree patient view for physicians at the point of care
Deploy point-of-care insights to affiliate provider practices
Improve contract performance by improving quality gap closure
Improve coding accuracy by identifying and addressing opportunities to recapture gaps
By using InNote, the health system achieved:
29% increase in chronic gap re-capture for commercially-insured patients attributed to affiliated provider practices, with the help of InNote pop-ups at the point of care
37% improvement in quality gap closure rate for commercial plan gaps with pop-ups at affiliated provider practices
Potential improvement in shared savings or performance-based payments based on respective contract structures
To know more about how your organization can use InNote to get concise clinical information and the context you need at the point of care to make patient-centric decisions and address administrative burnout, schedule a free consultation with our experts now.