InCare is the Innovaccer's robust care management and coordination solution that helps care teams simplify redundant tasks, bridge care and coding gaps, improve patient engagement and deliver better care outcomes.
We've added features to InCare to improve coding gap management, increase efficiency, and reduce errors, ensuring data isn't lost or mismanaged while using InCare.
New download feature
With the latest InCare update, users can now download information for coding gaps—both missed and suspected codes—in PDF format. This PDF includes complete information on specific codes from applications, including:
Whether the code was accepted, rejected, or ignored
User comments

If codes are not reviewed, the PDF can be used as a worksheet to mark codes as accepted or rejected.
How to access the PDF Feature
To access this feature, users can use the download option on the "risk" tab. Once downloaded, the PDF looks like this: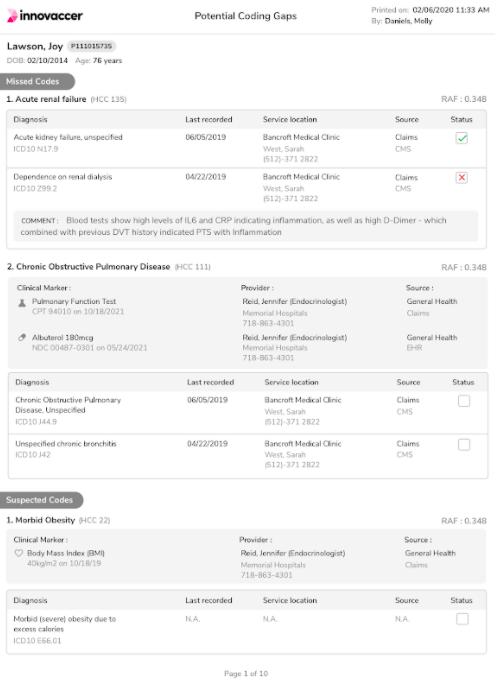 Highlights
The form has two sections: Missed Codes and Suspected Codes
Users can use a clinical marker (if available), followed by the codes and the associated details
Users can view responses in the "Status" column
The comments—if available in the original review—are displayed below each code
Different symbols denote accepted, rejected, and ignored codes
A message from the product team
It is our mission to continuously improve our products and make healthcare information easier to access and use, and we hope you'll find this latest feature update useful.