There is a significant shift in mindset amongst healthcare CXOs towards technology adoption and cloud, according to Sandeep ("Sandy") Gupta, Co-founder and COO of Innovaccer, an organization dedicated to accelerating innovation in healthcare. Sandy was speaking to Dan Sheeran, GM, Healthcare and Life Science, Amazon Web Services (AWS), as part of the SAAS Scions web series by Business Insider India, powered by AWS. A recent study shows that 95% of healthcare executives (surveyed by Morning Consult) are focusing on the digital transformation of underlying legacy health systems, on account of limitations on scale, capacity, and reliability of these age-old engagement models. Healthcare leaders, according to Gupta, are cognizant of the gaps that exist in healthcare data and processes.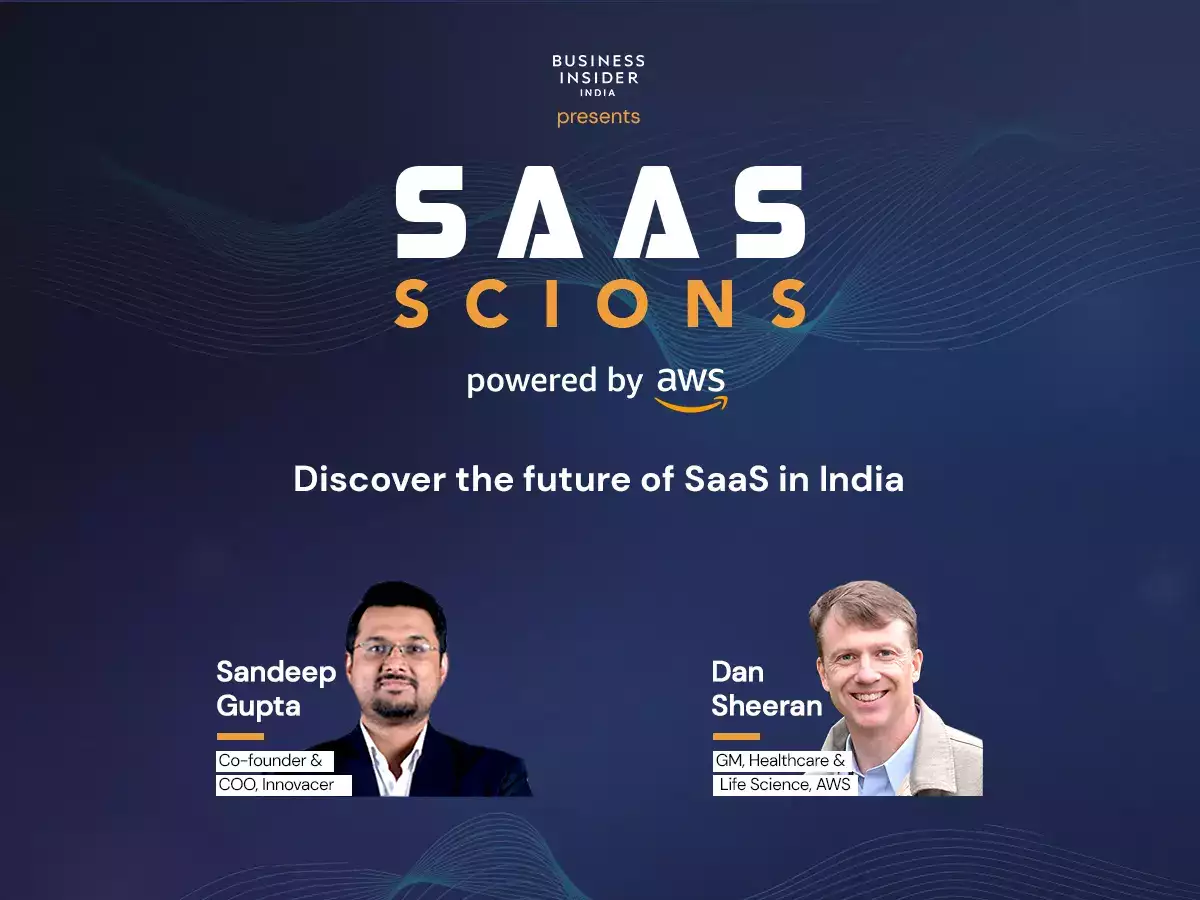 "Healthcare was obviously one of the most affected industries during the pandemic, with patient interactions going virtual. The only silver lining for the sector was the pace at which technology advancements happened followed by rapid adoption. For example, many of the industry players, who preferred on-premises deployment models, are now considering cloud as the de-facto choice." – Sandeep Gupta, Co-founder & COO of Innovaccer
Innovaccer, which started as a research collaboration between Harvard and Wharton in 2012, now has over 1,600 hospitals and clinics in the US, and 96,000 clinicians using its products. With its formal launch in 2014, the company chronicled impeccable growth in a short period by working with over 70 top organizations including the likes of NASA. However, the real pivot in the journey came with its decision in 2016 to focus solely on the healthcare sector.
"This meant that we let go of 80% of the revenue we had been generating. In hindsight, it was one of the toughest but best decisions we made. We were also quite fortunate to have investors who supported our decisions and vision," Gupta said.
Helping healthcare providers through data analytics
Innovaccer's focus is to enable healthcare providers to deliver more efficient and effective care services through unified data and analytics. Its solutions integrate healthcare data from multiple sources, such as electronic health records and other IT systems, into a cloud-native unified data model. This "single source of truth" enables advanced analytics and integrated workflows that improve care and financial outcomes for its customers, helping them achieve their strategic goals. The company works with healthcare providers to generate ROI quickly and accelerate innovation of digital health solutions.
"Our goal is to help customers drive better health outcomes at lower costs, while improving the patient experience. Another key aspect is around how can technology improve the care teams' experience and well-being by lightening their workload through our SaaS offerings. We understand that automating and optimizing as much of the caregivers' workflows as possible reduces their workload during peaks in demand," Gupta said.
Making healthcare affordable
Another area where technology plays a crucial role is in reducing the cost in the overall healthcare ecosystem. According to Gupta, the company's SaaS offerings have helped its customers save approximately $1 billion. "Imagine this: 30% of healthcare spending may be considered waste, which means that we still have a lot of work to do in cutting the 'wastage' to bring down the cost of care. That's an exciting opportunity where technology solutions can help," he said.
Gupta also believes that integrating technology with preventive care can significantly reduce hospitalization and bring down the overall cost. Data and analytics can enhance post-acute care and optimize the entire care cycle to enable cost savings for all stakeholders.
For example, Innovaccer provides risk stratification through advanced analytics at the point-of-care, to enable providers to identify and deliver the right level of care and services for subgroups of patients. This improves care quality and lowers care costs. Innovaccer also works with dozens of partners who provide unique solutions on top of its cloud-native data platform, enabling healthcare providers to quickly add more capabilities, offer more services, and make healthcare more accessible and effective. One example: Its collaboration with Find Help, the largest community resource search and referral network in the US, which enhances social determinants of health management for Innovaccer's customers.
Healthcare: The challenge to retain talent
For tech start-ups that plan to focus on the healthcare sector, emphasizes Gupta, there is no shortage of opportunities: "One of the areas where we see a lot of potential for innovation is around optimizing the in-hospital experience for patients. There is also a lot of scope in building pricing transparency into the system. Improving care delivery is another potential area for SaaS companies that are looking at solving healthcare challenges. AI, ML, and NLP can drive a lot of use cases including remote monitoring, hospital-at-home, and so on."
And for this, one crucial aspect is for young start-ups to attract and retain top talent to be successful in this journey. Speaking on why talent retention is a bigger challenge than talent acquisition, Gupta explained that it depended on the culture of the company. "These are a few things that worked for us. Have a customer-first approach and focus on the fact that employees are your internal customers. Build a system that promotes taking risks and launching moon shots that push teams out of their comfort zone, while embracing failure and moving ahead. And as one scales up, it's critical to cultivate an empathetic and binding culture within the organization," Gupta said.