As healthcare continues to transform digitally, the challenge is to take patient data and turn it into actionable insights that can be used to provide whole-patient care. Recently, UCSF Health Hub, a nonprofit dedicated to promoting innovative digital health and life science companies, collaborated with Innovaccer in an interactive panel discussion about the impact of digital transformation and the benefits of a common data platform in healthcare that puts the patient at the center.
In 2021, Innovaccer won the UCSF Health Hub Award in the Patient Cost Savings category and was recognized as a leading company helping customers excel at generating patient cost savings. To continue the discussion on patient-contextualized plans and the role of a common data platform in healthcare, the following thought leaders were invited to participate in the panel discussion.
Abhinav Shashank, cofounder and CEO, Innovaccer
Ashok Chennuru, chief data & analytics officer, Anthem
Sanjay Doddamani, cofounder and CEO, UpStream Healthcare
Sukhveer Singh, global head of healthcare insights, Roche
Moderated by Daniel Kraft, founder of Exponential Medicine
The discussion was centered around the role of interoperability in healthcare and how a data analytics platform can help improve care outcomes.
The present state of healthcare
Currently, healthcare data suffers from fragmentation and there is no single source of truth. This impacts population health management (PHM), leads to provider burnout, and the occurrence of unwanted errors in healthcare systems. All of this costs healthcare stakeholders billions of dollars and compromises the patient care experience.
A recent report by Morning Consult suggests that interoperability is the biggest technical barrier stifling innovation in healthcare. According to the report, 42% of healthcare executives claim that their organization's data is highly fragmented and 74% of executives agree that interoperability in clinical and claims data is a key focus for their organization.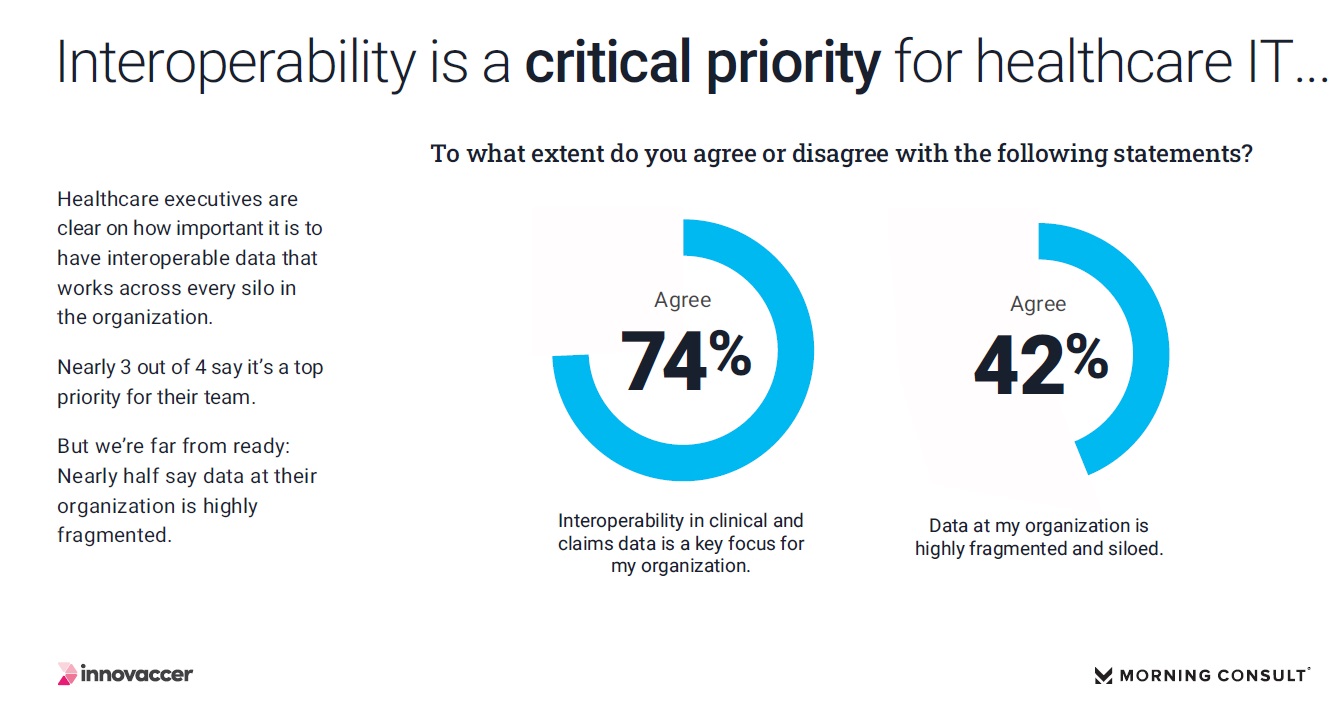 From digitization to digital transformation
While EHRs were helpful in digitizing healthcare data, they can't provide holistic digital transformation. EHRs lack interoperability, they are siloed and are not enough to resolve the ongoing data readiness crisis in healthcare. The Morning Consult report also suggested that only four out of 10 surveyed healthcare executives are satisfied with the role of their EHR vendors.
Even though healthcare executives have suffered from the limitations of EHRs, many are stuck in triage mode. The Innovaccer® Health Cloud's Data Activation Platform (DAP) can solve the data readiness crisis in healthcare by connecting, ingesting, normalizing, and activating data from various HIT or external sources, including hundreds of EHRs, claims, and even Social Determinants of Health (SDoH).
It can create a holistic view of patient data with real-time analytics that can deliver unparalleled support to providers, payers, and life sciences companies to attain better financial, clinical, and operational outcomes.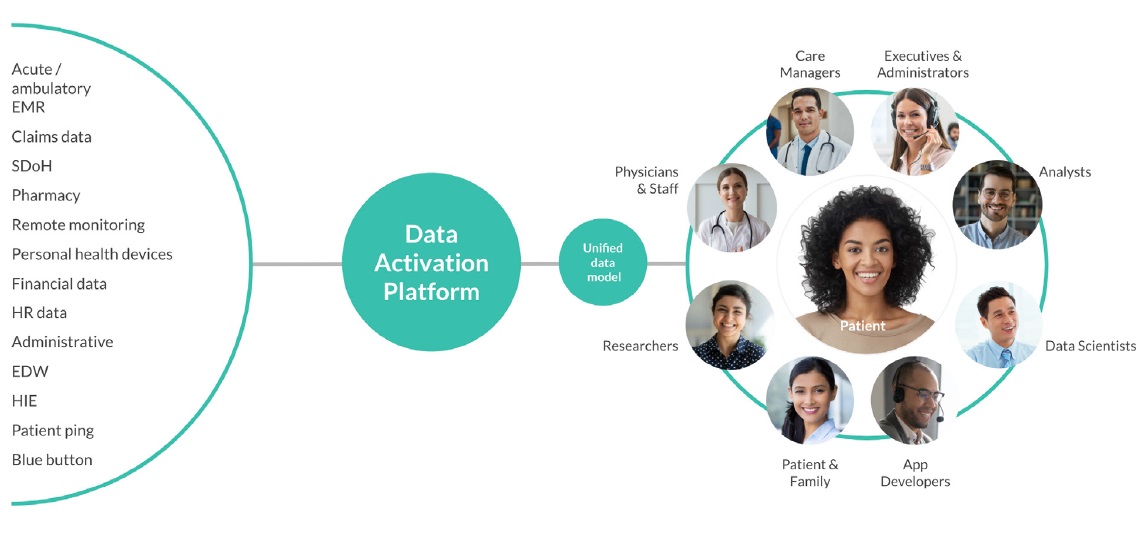 "There's a huge explosion of data in healthcare. We wanted to create an underlying data platform that can bring in data from disintegrated sources and create a unified patient view—to provide innovation in digital and value-based care. We are rapidly expanding on creating this ubiquitous data standard to provide better care outcomes by reducing cost structures," said Abhinav Shashank, cofounder and CEO of Innovaccer.
The cloud revolution can only happen through collaboration
The healthcare industry needs to innovate faster to achieve holistic data integration. A common data platform can play a vital role in leading healthcare providers, payers, and life sciences companies towards the future of digital transformation as a whole.
"Our focus is collaborating and partnering with, and pushing providers into different types of innovative care models or value-based care payment models including collaborative risk arrangements, so we can really keep the consumer at the center of everything and improve access to care," said Ashok Chennuru, chief data and analytics officer at Anthem. "So data is in the center of everything, but it's really not about the data we have. It's about outcomes through the insights we generate."
The journey from digitization to digital transformation in healthcare can only succeed when we put patients at the center. With the help of Innovaccer's cloud-native DAP, we can provide real-time patient-centered data and unleash the power of analytics and valuable insights.
"We have the opportunity to improve overall health outcomes and reduce hospitalizations. This is where data can help us. When we can identify patients early, get them engaged in coordinated care, and for the portion who are not permanently disabled or dependent, out into a self-care algorithm that can help themselves be supported, it's a win for everyone. It's a win for payers, providers, and most of all, patients," said Sanjay Doddamani, cofounder and CEO of UpStream Healthcare.
The future of healthcare: A patient-centered data platform
A patient-centered data platform is the future of healthcare that can provide real-time insights to stakeholders and drive better data-driven outcomes. Establishing a cloud-based data and analytics platform is how we can achieve the full promise of whole-person care for every patient and drive healthcare's digital transformation.
"We want to achieve patient navigation the same way Google Maps provides seamless navigation services. It should not be a caregiver's job to complete an incredibly hard puzzle of scattered patient data in a few minutes. By providing the right kind of insights at the point of care, we can collaboratively achieve better care outcomes," added Abhinav Shashank, about the future of data and analytics platforms in providing a seamless care experience.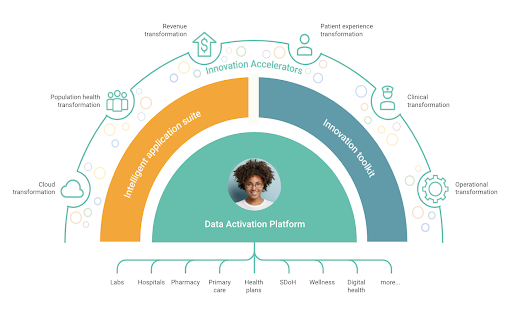 "We're looking to build the third pillar as we look to our future, which is really focused around leveraging clinical and data science to add intelligence to patient care journeys, whether it's decision support for patients or whether it's for clinicians overall," said Sukhveer Singh, global head of healthcare insights at Roche.
"I think we're all here because we want to move the needle in healthcare and that new data is not sufficient. It needs to obviously translate to insights at the bedside, in clinical trials, pharma, and beyond it. It's about cross-collaborating, cross-fertilizing, and thinking about how we can do things differently, learn from the past, and move things forward. Let's keep collaborating to build a better future for health and medicine for all of us," added Daniel Kraft, founder of Exponential Medicine.
Innovaccer has been committed to accelerating digital transformation in healthcare with its 2022 Best in KLAS Data Activation Platform. We're laying the foundation to help our customers and partners drive digital transformation and accomplish our shared mission to achieve truly holistic care.
Watch the recording
of the interactive panel discussion to learn how healthcare is moving from digitization to digital transformation.
To find out how Innovaccer can help you accelerate your digital transformation, request a demo.