Innovaccer's Population Health Management suite leads KLAS assessment with the most comprehensive functionalities across all five PHM pillars, advanced data acquisition, and data analysis capabilities
SAN FRANCISCO — Today Innovaccer Inc. announced that it has been recognized as a leader by KLAS Research in its just-published Population Health Vendor Overview 2023 report. Of the 12 vendors measured in the report, KLAS states that Innovaccer stands out for its customer experience, market energy, and breadth of its PHM capabilities. Innovaccer's customers include some of the country's largest healthcare organizations, many of whom are aggressively pursuing risk-based payment models, KLAS reported.
Between May 2021 through April 2023, KLAS assessed 12 leading HIT vendors on functionality and adoption across five core PHM pillars: data acquisition, data analysis, administrative and financial reporting, care management, and clinician engagement. Innovaccer achieved a high overall performance score of 89%, a high partnership rating of 8/9, and exhibited high customer adoption for care management.
Innovaccer was cited as one of the two "most well-rounded leaders in PHM today." KLAS analysts also noted that Innovaccer is among only three vendors "most frequently considered by organizations looking at PHM technology," and pointed to Innovaccer's prioritization and consistent development of broad capabilities in data acquisition and data analysis as the foundation for the company's market leadership.
KLAS also measured vendors across six customer experience pillars—Culture, Loyalty, Operations, Product, Relationship, and Value—as well as which vendors were more likely to be considered for population health management purchase decisions, and who could best facilitate value-based contract revenue for customers.
Innovaccer's customers reported more value-based contracts and a higher percentage of revenue (65%) tied to such contracts than all but one other vendor. They praised the company's ability to consolidate multiple data sets and integrate with other vendors' solutions to empower their organizations' PHM programs.
Indeed, organizations moving towards risk-based models preferred Innovaccer for its expertise in aggregating large, complex data sets; enabling comprehensive analysis; and offering additional capabilities to deploy administrative and financial tools that allow tailored insights around contract performance and potential risks that help realize revenue from value-based contracts.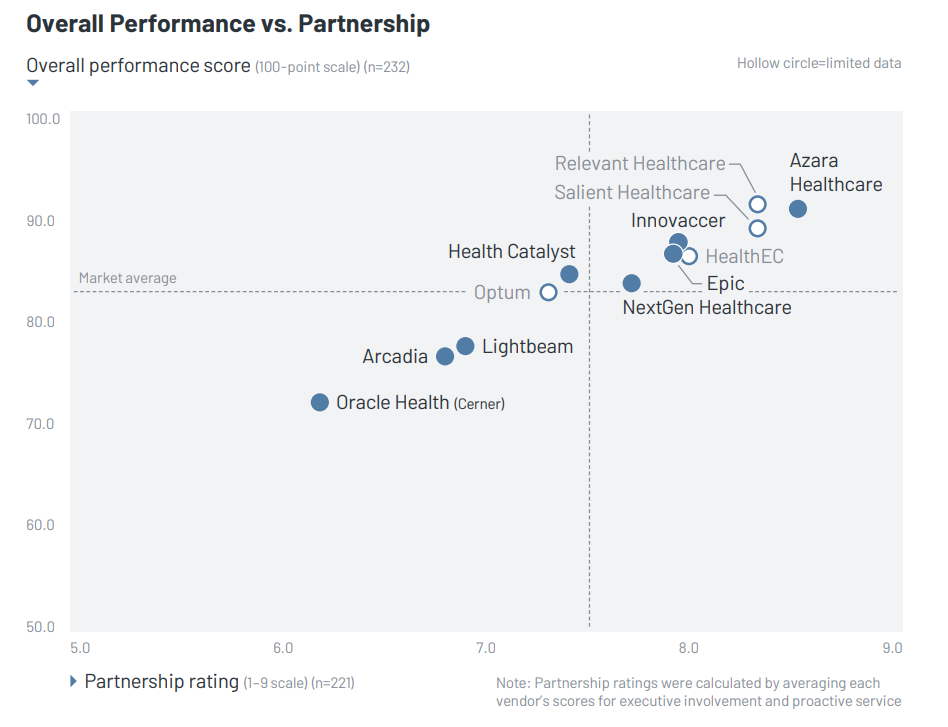 "We are grateful to our superhero customers for their partnership, support, and trust in Innovaccer," said Abhinav Shashank, cofounder and CEO of Innovaccer. "Being recognized once again as a leading population health vendor by KLAS Research is a testament to our customer partnerships, and our shared focus to shape the future of healthcare. We want everyone—no matter where they live or what their other social determinants are—to have easy access to high-quality, low-cost, equitable whole-person care, and exceptional patient and provider experiences throughout their care journeys. We're honored to be acknowledged by KLAS for our long-standing commitment to population health management and all that goes into enabling it. We extend our heartfelt thanks to KLAS for their attention to this crucial area of healthcare, and we'll continue to innovate and deliver future-focused solutions that enable our customers to succeed in an industry that is transitioning inexorably to value."
About KLAS Research
KLAS is a data-driven company on a mission to improve the world's healthcare by enabling provider and payer voices to be heard and counted. Working with thousands of healthcare professionals, KLAS collects insights on software, services, and medical equipment to deliver reports, trending data, and statistical overviews. KLAS data is accurate, honest, and impartial. The research directly reflects the voice of healthcare professionals and acts as a catalyst for improving vendor performance. To learn more about KLAS and the insights we provide, visit https://klasresearch.com/.
About Innovaccer
Innovaccer Inc. is the data platform that accelerates innovation. The Innovaccer platform unifies patient data across systems and care settings, and empowers healthcare organizations with scalable, modern applications that improve clinical, financial, operational, and experiential outcomes. Innovaccer's EHR-agnostic solutions have been deployed across more than 1,600 hospitals and clinics in the US, enabling care delivery transformation for more than 96,000 clinicians, and helping providers work collaboratively with payers and life sciences companies. Innovaccer has helped its customers unify health records for more than 54 million people and generate over $1 billion in cumulative cost savings. The Innovaccer platform is the #1 rated Best-in-KLAS data and analytics platform by KLAS, and the #1 rated population health technology platform by Black Book. Find out more on innovaccer.com.