Navigating the healthcare system in the United States can be a daunting and overwhelming experience for payers and providers alike. With its multitude of players, plans, members, and regulations, it can feel like a maze with no clear way out. This complexity can be compared to a drive on the Judge Harry Pregerson Interchange in Los Angeles, the country's largest and most intricate network of highways.
Let's think of the Judge Harry Pregerson Interchange as a complex workflow, because it is. Now let's remove the highway's unified data from its already confusing workflow. Imagine if some, but not all, all of the traffic lights, speed limits, and road signs were removed. Imagine if some, but not all, of the travel lanes, carpool and high-occupancy vehicle lanes, bus lanes, emergency lanes, shoulder lanes, and physical barriers were eliminated.
That's a fragmented data problem. And by fragmenting the Interchange's data—giving drivers some but not all the insights they need to navigate this complex system as efficiently and effectively as possible—the Interchange would break down. A large percentage of drivers would become lost. Others would take far longer to reach their destination. Accidents and deaths would rise. Gridlock would periodically result. Transportation goals and their outcomes would plummet.
Back to healthcare. When managing a member's journey through our complex healthcare system, it's crucial that payers have all of a member's information in hand, centralized and unified. Fragmented member data, siloed across various HIT systems, means payers can't have a complete understanding of a member's health history, and can't help that member optimally navigate their care journey. This results in fragmented care delivery, missed opportunities for preventive medicine, suboptimal member engagement and poor experiences, increased costs, and other undesirable outcomes.
Payer-Provider Collaboration: The Bedrock for Improved Care Outcomes
Payer-provider collaboration can help break down these silos and improve patient/member care with real-time bidirectional data exchange. For optimal success, digital transformation initiatives and enhanced interoperability require open data sharing.
Providers and payers must work together to propel improved outcomes, such as shared savings, gap closure, enhanced clinical performance, and effective practice management, while improving member health outcomes. This can help reduce healthcare costs in several ways.
Data siloed across varying systems, purposes, or functions adversely affects patient/member care, utilization, and healthcare costs. Efficient payer-provider collaboration is critical for improved clinical, financial, operational, and experiential outcomes.
Improving the frequency and quality of healthcare information exchange is vital. Unfortunately, effective data sharing remains a significant challenge due to lingering technological limitations. Payers can't meaningfully invest in whole-person care without a modernizing technology to enable more transparent data sharing and enhanced information flow.
To address clients' needs and identify gaps in their care, it's crucial to understand them from a comprehensive 360-degree perspective. This means leveraging clinical, claims, and social determinants of health (SDoH) data from appropriate sources and systems. By integrating these factors, the Innovaccer Platform empowers payers with the platform and tools necessary to effectively influence member health outcomes.
Interoperability in healthcare involves more than just getting different systems to communicate with one another. It requires providing actionable insights into the member's healthcare journey, and integrating those insights into existing workflows. The Holy Grail for achieving pervasive interoperability and improving care coordination is access to complete, high-quality data that's integrated into a single unified member record.
Harness the Power of Unified Data: Streamline Workflows and Ignite Innovation
By using a unified data platform, payers can target specific data problems at first, and then branch into other areas based on workflows they can coordinate with the data. Alternatively, a payer might have a workflow problem and can start with an application that solves that issue. As a payer reaps the benefits of that application, they can expand their use of the data platform to solve for and innovate around other data and workflow-oriented issues and opportunities.
While all of the data gaps won't be eliminated immediately, adopting a unified data platform can help improve data sharing which improves payer-provider collaboration. Through sharing quality measurement expertise and partnering for better healthcare delivery, payers and providers can meet their shared and individual goals more faster and for less cost.
A unified data platform topples the barriers that have long hampered payers and providers from overcoming challenges related to connectivity and siloed data. It's now possible, even easy, for payers to collect, centralize, and act on members' relevant data, and activate it to drive insights that improve the member experience, support quality care, reduce risk, and wring unnecessary costs out of the healthcare system.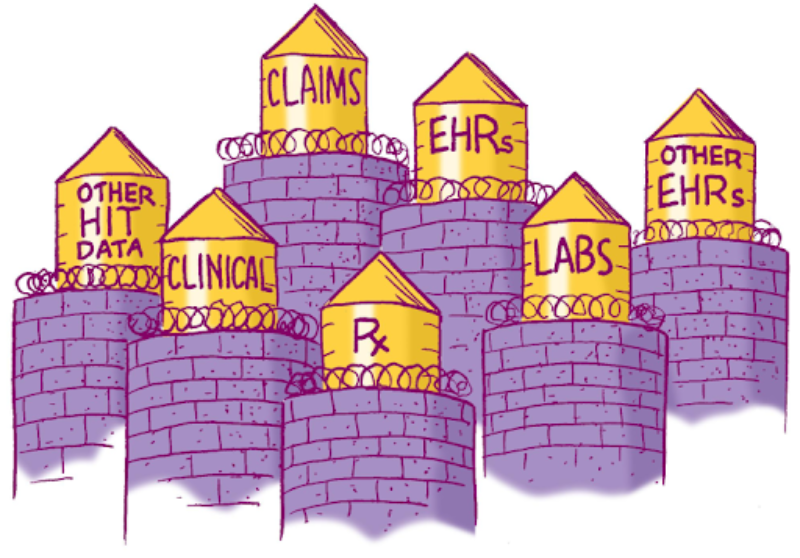 Closing Gaps in Health Risks and Care Plans
For example, with the advanced workflows backed by unified member records to support incentive programs, payers and providers can get timely access to a prospective gap in risk and gap-in-care chase lists to identify potential health risks and develop a plan to address them.
In addition, integrated care management backed by unified member records can address high-risk members by having access to their complete medical history. Proactive monitoring with automated alerts can flag, predict, and help prevent larger health issues before they occur.
Lastly, identification opportunities for closing gaps in care and hot-spotting with high confidence, and performance trend reporting and monitoring for health plans, can help coordinate care more effectively, reducing the risk of gaps in care, ensuring medication and care plan adherence, and improving member outcomes.
Payers today strive to meet proactive engagement expectations of members across their care journeys. With a unified data platform, they can deliver real-time, data-driven insights and guidance, in one consolidated screen for all of the interactions with their members.
Payers are on a mission to keep their members healthy, and engage them to ensure they're successful with the care delivered and treatments prescribed by their provider network. Payers also want to help deliver better experiences that increase retention, manage healthcare costs, and improve their MLRs.
With a solution that accelerates digital transformation with modular healthcare data management that enables flexible predictive modeling and self-serve analytics tools, payers can use point-of-care insights into sophisticated user-based reports and alignment across different member segments such as contract type, risk level, and demography. This can help reduce unnecessary hospitalizations and lower costs.
Improving payer-provider collaboration through unified member data is the key to unlocking healthcare information silos, ending member data fragmentation, and improving member care. The Innovaccer platform unifies data across disparate EHRs and HIT systems to give payers and their providers a single source of truth about each member, and help ensure that member's care journey isn't like a rush hour drive on the Judge Harry Pregerson Interchange; but rather, is as smooth, seamless, and satisfying as possible.