Missed our previous post? We suggest you start here,
with "Why Healthcare Needs to Play Moneyball"
American health systems are in big trouble.
At least half of all U.S. hospitals will lose money in 2022—and some of the bigger systems will suffer staggering multi-billion dollar losses. More than 40% of all rural hospitals are at risk of closure. And median operating margins have been in the red for the past 10 months.
Financially speaking, 2022 has been one of the worst years on record for hospitals—approaching a 10 on the pain scale for hospital leaders. It's a crisis that's been brewing for some time, but a convergence of forces has taken it to a catastrophic level.
Hospital revenues were hit hard by the pandemic, as patients deferred care or accessed it through virtual care networks. Today, the volume of Medicare patients remains flat, and commercial patient volume has yet to return to pre-pandemic levels. This hurts the bottom line, since hospitals have long relied on revenue from commercial patients to make up for losses incurred treating Medicare patients.
Meanwhile, Medicare discharges are now typically delayed by a day or two because skilled nursing facilities (SNFs) don't have the staff to handle the capacity. This creates another hit to operating costs, since hospitals receive no additional revenue from payers for those delayed transfers.
And the knockout punch could be the steep rise in labor costs, now at an all-time high, due largely to the shortage of nurses and increased reliance on contract labor. Hospitals report their per-patient labor costs increased more than one-third since 2019.
In contrast, the few providers that have embraced full-risk and value-based contracts, while maintaining balance with their fee-for-service (FFS) book of business, suffered less financially during the pandemic with the reduction in hospital- or clinic-based care. Instead, many saw their profitability improve even as they were able to provide patients with the kind of lower cost telemedicine, preventive care, and social services that helped them stay healthier.
Today, on the decade-long transition to value, most providers sit somewhere between traditional fee-for-service and full risk. Almost all healthcare payments today have some component tied to care quality, cost reductions and even patient experience. Yet fee-for-service mechanisms still underpin most of those alternative payment models.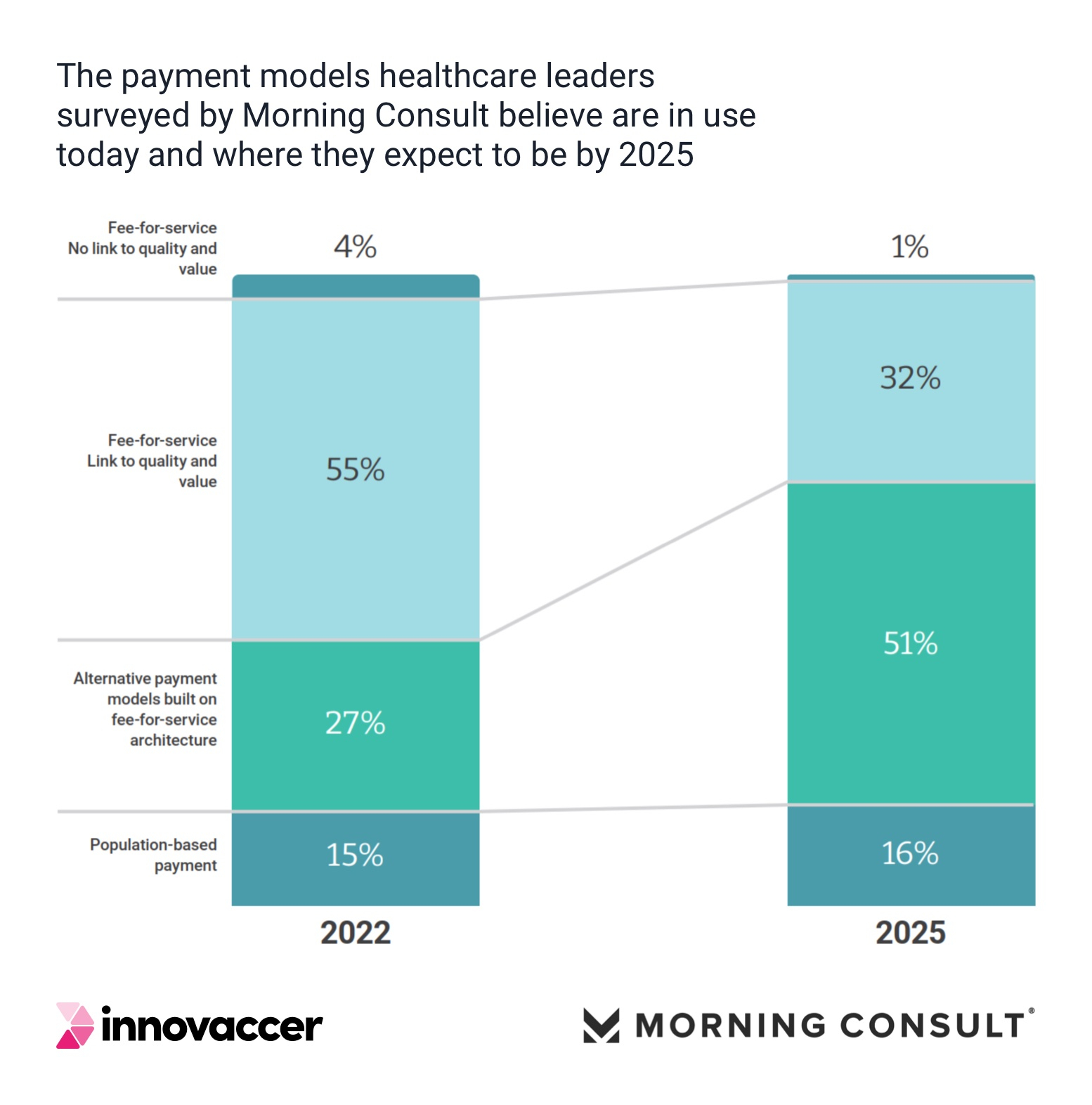 This means that revenue streams are complicated by different and often contradictory incentives. According to CMS's "Innovation Center Strategy Refresh" paper, the large number of alternative payment arrangements available through Medicare, Medicaid, and most commercial payers has also forced providers to adapt to an extensive variety of reporting requirements and quality measures.
Most providers are aware that they still lack the care management capabilities and digital infrastructure to fully embrace value. Fewer providers recognize the challenges they have in understanding and effectively managing risk.
There are many complex reasons why the transition to value has been so difficult and incremental. But one explanation stands above all others. Regardless of the reimbursement model in place, the very peculiar history of healthcare economics in the U.S. has left providers ill-equipped to identify and influence the factors that actually drive clinical and business performance.
Discovering, understanding, and influencing these factors is what I call Healthcare Valuenomics. It's a new and crucial approach to business that health systems must adopt if they want to survive and thrive in an increasingly challenging economy and healthcare marketplace—one in which value-based care will eventually become the predominant paradigm, but which fee-for-service remains a dominant factor for now.
Health systems that learn how to embrace whole person care for medicare and chronic patients; and embrace personalized and proactive consumerism for commercial and healthy patients will put themselves into position to survive and thrive in post-pandemic America. By leveraging the principles of Valuenomics, they will be better able to generate a positive bottom line impact both from value-based (medicare, chronic) and fee-for-service care (commercial, healthier).
In my next post, we'll dig into Valuenomics for value-based care and talk about the tech stack necessary to make success possible. Then we'll look at Valuenomics for fee-for-service care, and describe the CRM tech stack necessary for success with commercial plans and healthier patients.
Now more than ever, it takes a two-pronged strategy for health systems to succeed. No one said it would be easy. But with Valuenomics, you'll learn how to identify and leverage undiscovered or underappreciated high-value opportunities—often indicated but not specifically revealed by your analytics tools—that can have an outsized positive impact on your strategy and goals.
Healthcare isn't a game. But we can learn a lot from how Moneyball is played—and how its basic principles, inspired by sabermetrics, can be applied to the business and operations of healthcare through the practice of Valuenomics.