Innovaccer outperformed on the Radar's two key axes: Innovation and Growth for the company's data platform technology, scalable digital solutions, international expansion, and growth over the last five years
SAN FRANCISCO— May 24, 2023—Today Innovaccer Inc. announced that it has been recognized as an industry leader by Frost & Sullivan in its latest Frost™ Radar report, "Healthcare Payer-Provider Connectivity Solutions in North America 2023." Frost & Sullivan scored Innovaccer a 4 out of 5 on its Innovation Axis and a 3.8 out of 5 on its Growth Axis, surpassing more than 100 market participants screened. These high scores placed Innovaccer as a market leader among the top 3 of 16 brands featured on the final Frost Radar.
On the innovation front, Frost analysts specifically cited Innovaccer's ability to foster trust and collaboration between payers and providers with a focus on patient engagement, communication, FHIR, API management and capabilities, enterprise clinical data exchange, and seamless integration and interoperability with healthcare IT systems, such as EHRs. Innovaccer's top 3 ranking in the latest Frost Radar affirms the company's position as one of the industry's most innovative and fastest-growing healthcare technology vendors
As an industry leader, Innovaccer was also included for its innovative support of value-based reimbursement models overall, digital tools to support care management and value-based contracts; and customizable analytics and reporting that track key performance indicators, quality metrics, and outcomes benchmarking.
For the growth metric, Innovaccer's top ranking is credited to its tremendous and consistent growth over the past five years. The company sustained more than 100% year-over-year growth and became one of the top five choices for more than 60% of healthcare organizations as their solution provider. Innovaccer's growth has also been fueled by its international expansion in the Middle East, the United Kingdom, expansion into the US public sector, and rapidly growing ISV partner ecosystem.
The Frost Radar measures growth rates in addition to absolute revenues and combines them with several other factors to measure companies' performance along the Growth Axis. This is important to mention because certain very large vendors included in the report have relatively high revenues but are not among the growth leaders in absolute terms. In other words, Innovaccer outranked some of the industry's largest companies by growth for this metric.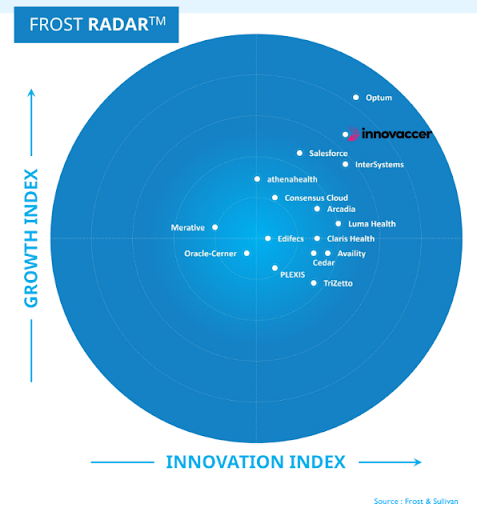 Fig 1.: Innovaccer achieves a top 3 ranking in the latest Frost™ Radar
Frost & Sullivan screened more than 100 payer-provider connectivity solution vendors in North America and shortlisted 25 for a more detailed analysis of their corporate growth potential and ability to drive visionary innovation. Of these, 16 that represent best-in-class data interoperability, clinical data exchange, API capabilities, care coordination, payment integrity, and patient engagement solutions were chosen for inclusion on the Frost Radar.
Frost's primary and secondary analyses span healthcare's entire value chain, identifying organizations that consistently develop new growth strategies based on a visionary understanding of the industry's future and a proven ability to effectively address emerging challenges and opportunities. The Frost Radar serves as a gauge for industry leaders and end-users to identify vendors with whom they can build long-term relationships.
"We're committed to helping our customers succeed with value-based care, and that focus is reflected in the areas that Frost & Sullivan focused on," said Abhinav Shashank, cofounder and CEO of Innovaccer. "Provider/payer collaboration, interoperability, clinical data exchange, patient engagement, advanced analytics, integrated workflows—these are the key capabilities healthcare stakeholders need in their transition to value. And collaboration is the lynchpin to delivering evidence-based, data-driven, quality care at scale. We're proud to be recognized by Frost & Sullivan for our leadership in the Payer-Provider Connectivity Solutions Market, and are confident that our platform is the best choice to help organizations accelerate their success with value-based care."
Frost Radar™: Healthcare Payer-Provider Connectivity Solutions in North America 2023 report is available now to Frost & Sullivan subscribers. For more information about Innovaccer's platform, visit www.innovaccer.com.
About Frost & Sullivan
Founded in 1961, for over six decades Frost & Sullivan has helped build sustainable growth strategies for Fortune 1000 companies, governments, and investors. Frost & Sullivan delivers actionable insights to navigate economic changes, identify disruptive technologies, and formulate new business models to create a stream of innovative growth opportunities that drive future success.
About Innovaccer
Innovaccer Inc. is the data platform that accelerates innovation. The Innovaccer platform unifies patient data across systems and care settings, and empowers healthcare organizations with scalable, modern applications that improve clinical, financial, operational, and experiential outcomes. Innovaccer's EHR-agnostic solutions have been deployed across more than 1,600 hospitals and clinics in the US, enabling care delivery transformation for more than 96,000 clinicians, and helping providers work collaboratively with payers and life sciences companies. Innovaccer has helped its customers unify health records for more than 54 million people and generate over $1 billion in cumulative cost savings. The Innovaccer platform is the #1 rated Best-in-KLAS data and analytics platform by KLAS, and the #1 rated population health technology platform by Black Book. For more information, please visit
innovaccer.com
.