Successful revenue cycle management (RCM) strategies have evolved beyond financial management to incorporate value-based care. Providers are investing more time and money than ever into RCM (1, 2) as they work to maximize revenue through streamlined billing and coordinated care. However, siloed data continues to be an impediment to achieving that goal.
A 2021 survey conducted by Innovaccer shows that healthcare executives attribute slow, unreliable revenue cycle processes to fragmented data from multiple sources and that fragmentation can impact clinical and financial outcomes. Nearly 100% of the respondents said siloed data was their biggest challenge. In fact, the study showed nearly 50% of the respondents struggled with prior authorization, and approximately 40% said they struggle with denial prevention. Siloed systems are the root cause of cascading problems, such as weak analytics, poor data quality, lack of end-to-end claim processing visibility, and the need to constantly rework data.
How can data fragmentation be resolved?
Ensuring a single stream of real-time data flowing through all processes can help. Data unification and activation can play a pivotal role in streamlining RCM, which can not only boost financial performance but also improve the patient experience. A unified record that tracks the entire patient journey, from the first encounter in a clinical space to the final payment received for the services, can help facilitate coordinated care in addition to optimizing the billing workflow.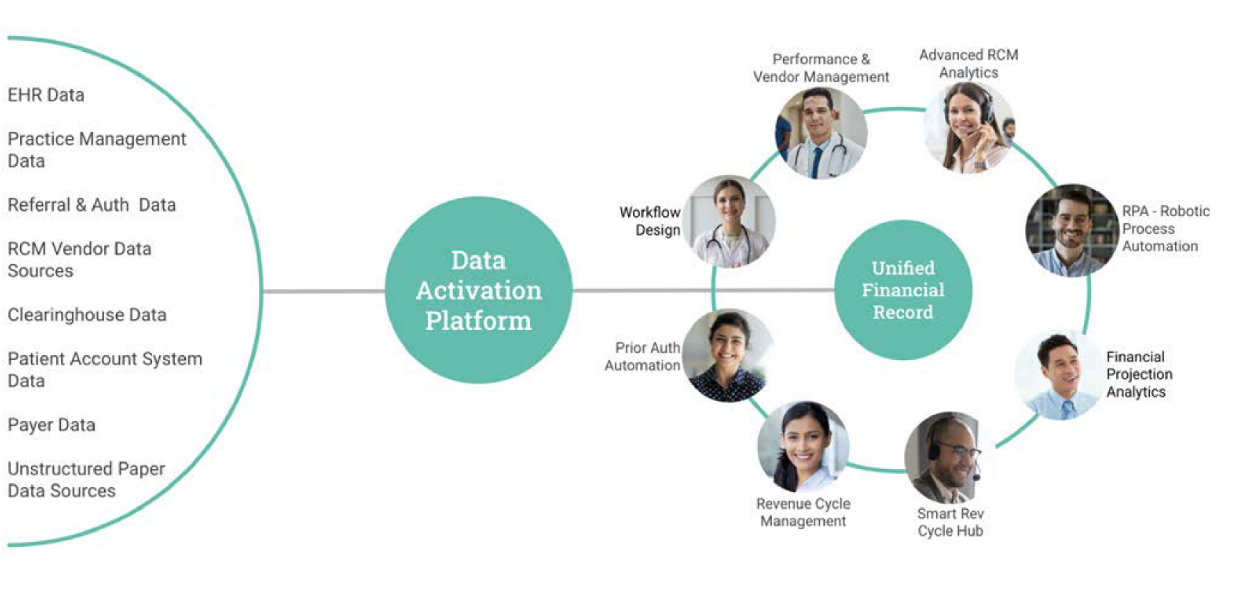 The Innovaccer® Health Cloud helps unify disparate systems of data to create a single source of real- time information for analysis and decision-making across the RCM ecosystem. This unified view helps streamline the entire workflow, including claims management, payment tracking, ensuring regulatory compliance, and denials management, which can further help improve both patient and revenue experience.
Assessing revcycle's pain point in value-based care
Revenue cycle leaders recognize the need to track claims end to end, but they often continue to prioritize fixing the effects (sluggish processes) over addressing the root cause (fragmented data). Fixing the root cause of RCM challenges—fragmented data—can help build the foundation for better care outcomes. Having complete patient data at every step of the healthcare journey can enable providers to deliver more personalized and informed care and, in the process, maximize reimbursements.
The pursuit of value-based care has increased the focus on data management. Innovaccer's Health Cloud helps with data unification and normalization, bringing electronic health records (EHRs) and other related systems onto a common platform that can share data with all stakeholders in real time. This helps facilitate the meaningful use and interoperability of EHRs to accelerate the revenue cycle.
Is outsourcing RCM the way forward?
An analysis by IMARC Group estimates worldwide annual growth of 17.6% in RCM outsourcing from 2022 to 2027. Given the mounting pressure on providers to keep up with the growing demand for healthcare services, the continuing effect of the pandemic, the shortage of skilled staff, the rising need for coordination with patients and payers, and government compliance requirements, more providers are expected to outsource RCM in an effort to better manage billing and care. Such a move will also help them offload non-clinical tasks to save money and reduce errors, and minimize resultant claim denials.
The move makes sense for many hospitals and practices, freeing them to focus more on patient care and less on administration. Interestingly, effective RCM requires the same advances to unified data and process automation no matter who is doing the work.
How Innovaccer accelerates integrated transformation
The Innovaccer Health Cloud helps providers solve the challenge of siloed data by unifying RCM data, and creating a longitudinal patient financial record that can streamline workflow to help improve care and maximize top- and bottom-line revenue. It can help substantially cut reporting needs and tasks with real-time analytics for better, faster decision-making.
Its central unified data model serves as the foundation to help ensure RCM success by integrating it into the patient experience. By emphasizing data unification, the Innovaccer Health Cloud helps providers accelerate their transformation to population health.
Addressing the root cause of siloed data with Innovaccer's Health Cloud can help providers leverage data unification to achieve seamless front-end, mid-cycle, and back-end RCM operations. At the same time, it can also accelerate better patient engagement by helping clinicians provide a more personalized and contextualized experience to consumers.
If you're attending the HFMA Annual Conference 2022, please be sure to visit booth #400 and ask us about our Revenue AI Accelerators for health systems. To learn more about how Revenue AI can help your organization optimize your revenue cycle, please contact us.